Pennine Pneumatic Services Wins Atlas Copco Compressors' 2015 Distributor of the Year Award
Repeating their achievement of two years ago, Halifax-based Pennine Pneumatic Services has been awarded the accolade of Atlas Copco Compressors' 2015 Distributor of the Year.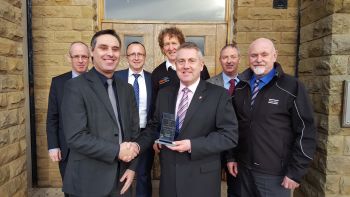 Atlas Copco Compressors
Managing Director, Gary Whitaker said: "Winning the Atlas Copco Distributor of the Year Award for the second time in three years is testament to the teamwork behind everything we do here at PPS, as well as our excellent working relationship with Atlas Copco. It's a great accolade to start our 25th anniversary year, and we look forward to another bumper year in 2016."
A major aspect of PPS's success in surpassing its 2015 sales target by 30 per cent was the company's recognition of the potential efficiency savings its customers could make from Atlas Copco's recently introduced GHS VSD+ rotary screw vacuum pump range. Nationwide, PPS was among the first Atlas Copco distributors to install this new and far-reaching rough vacuum technology at the sites of its major customers; which offers average energy savings of 50% compared with conventional oil-sealed and dry vane vacuum pumps, as well as best in class noise levels and oil retention.
Service Director, Ian Harrison commented: "As a long-standing distributor of Atlas Copco Compressors' market-leading products, we're proud to champion their benefits to our customers: from cost savings and efficiency to lowering their carbon footprint. We've been extremely pleased with our sales this past year and receiving this award is the icing on the cake."
The 40-strong PPS team's holistic approach and ability to go the extra mile, by securing business opportunities in a diverse regional market, has contributed greatly to achieving results. The company prides itself in being a people-centric business: a factor that is underscored by its other achievements this year. This included PPS winning the Halifax Courier Business Award for Employer of the Year, together with its employee Matthew Chandler being shortlisted as a regional finalist for the EEF Manufacturing Apprentice of the Year award.
As Ian Harrison explains: "At PPS we are strong believers in encouraging every member of staff to fulfil their potential. Since joining the company, Matty has progressed from pipe fitter labourer on to an engineering apprenticeship, supported by his manager and the rest of the team. Being shortlisted as a regional finalist for the EEF Manufacturing Apprentice of the Year awards was a great achievement, and we are proud that Matty has received this accolade under the auspices of the company."
PPS has been an authorised premier distributor for Atlas Copco Compressors for 25 years. From its Halifax site, the company is committed to meeting the needs of customers in the Yorkshire area by selling, installing and servicing Atlas Copco's unique range of high quality, energy saving compressed air and vacuum solutions. This includes GX and GA (Fixed speed and VSD) industrial air compressors, oil-free compressors and screw blowers, rough vacuum pumps and nitrogen generators.