Patented Pump Technology Avoids Diaphragm Failure
The D10/G10 Kel-Cell' series of Hydra-Cell' industrial pumps now feature Wanner Engineering's patented Diaphragm Position Control (DPC) technology.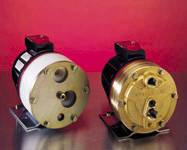 Hydra-Cell D10/G10 Kel-Cell (source Hydra-Cell)
Kel-Cell pumps can control the position of the diaphragm under a variety of adverse inlet conditions to provide a new degree of diaphragm rupture protection. DPC technology is available on new Kel-Cell pumps, and can be easily retrofitted on D10/G10 pumps already in the field.
DPC technology enhances Kel-Cell pump performance, reliability and durability. DPC equipped pumps reduce by up to 90% the possibility of an incidental diaphragm failure caused by adverse system conditions, such as: Partially or completely blocked inlet pipe or inlet filter; Partly or completely closed inlet shut-off valve; inadequate liquid supply; Excessively viscous fluids; Inadequate discharge pressure; or other conditions resulting in excessive vacuum conditions on the inlet of the pump. For immediate Hydra-Cell pump information, including product information, parts manuals, technical documentation, CAD drawings and more, visit