Parsons Peebles Extends MV/HV Motor Offering with New Standard Product Range
Electromechanical technology and services provider, Parsons Peebles, are pleased to announce the launch of their new medium and high voltage standard motors extending their current portfolio of engineered and drop-in replacement solutions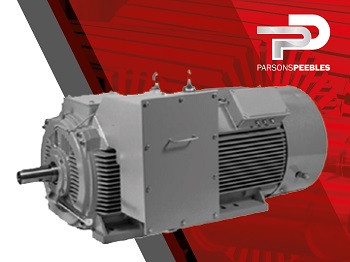 PPD Series, IC411 motor (Image: Parsons Peebles Group)
The main product types that will feature in the Parsons Peebles standard product portfolio include the PPD series, an IC411 motor which is a self-ventilating, enclosed machine with external fins and an external shaft mounted fan. The PPT Series is an IC611 motor which is also an enclosed machine and has a built on heat exchanger and shaft mounted fans. The PPC Series, an ICO1 motor, is a self-ventilating machine that is integral fan cooled by a shaft mounted fan. These all conform to the IC code as laid down in 60034-6.
The three-phase squirrel caged induction designs, come in a range of voltages, most commonly 3.3kV, 6.6KV and 11kV with class F insulation and class B rise as standard. The product range covers 2 to 10 poles in sizes up to 560 frame, across a power range of 185kW to 2.8MW.
The introduction of the standard product range to the Parsons Peebles portfolio widens the opportunity of the company offering to many markets including the process industry, cement & aggregates, metals and water and wastewater treatment. Parsons Peebles are already very active in these industries through its acquisitions of service companies, Anstee & Ware and Taylor and Goodman, who have many years of experience in servicing electrical and mechanical machines such as LV/MV/HV motors, pumps, gearboxes and air compressors. The new Parsons Peebles standard product range will be sure to further compliment the business's offering and support these markets more extensively.
CEO of Parsons Peebles Group, Frank Barrett, comments: "We are excited at this next step in the continued development of the Parsons Peebles product offering to our customers. This launch is an important part of our journey, while continuing to enhance our reputation and brand as a full service and product provider across the whole electromechanical landscape."
About Parsons Peebles
Parsons Peebles are a rapid response, full scope provider of electromechanical products and services globally. We operate from 13 sites across the UK and from our global sales network to offer new equipment, workshop services, site services and parts for HV/MV/LV motors & generators, pumps, gearboxes, compressors and other rotating machinery. Our company brings together the legacy brands of Bruce Peebles, NEI Peebles, Peebles Electric Machines, Parsons Peebles Generation, Anstee & Ware, Taylor & Goodman, AW Sterne and IPD.
Parsons Peebles can manufacture to almost any specification and have the experience and capability to provide solutions in particular to low starting current, low noise and certified applications. Our aftermarket solutions are comprehensive and cover all Parsons Peebles legacy machines as well as 3rd party brands.
Parsons Peebles is a Clyde Blowers Capital company.