Parker Announces New Micro Diaphragm Pump
A new micro diaphragm pump from the Precision Fluidics Division of Parker Hannifin Corporation is specifically designed for the needs of portable medical devices for advanced wound care.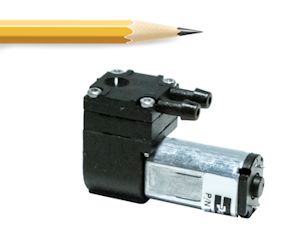 New Micro Diaphragm Pump for Small Portable Negative Pressure Wound Therapy Medical Devices (Image: Parker)
The Parker T2-05-IC micro diaphragm pump provides the negative pressure required to draw down the dressing over the wound area and to maintain a constant suction for effective wound healing. "After listening to the future requirements of our customers there is a need to develop advanced medical treatments for the millions of minor surgeries that are conducted around the world. Parker's micro diaphragm pump operates as the vacuum source for the wound dressing system", said Abelardo Gonzalez, Global Product Manager.
"Size, performance, and reliability are significant advantages with this pump," explains Gonzalez. Advanced wound management devices are getting smaller for portability and increased patient comfort. The efficiency of these devices is critical because low power consumption and minimal vacuum losses allow battery packs to last longer. This capability allows the patient to be more mobile; thus enabling a better quality of life.
The Parker T2-05-IC is ideal for applications such as single patient use negative pressure wound therapy (NPWT) devices that require multiple dressing therapy treatments and is CE and RoHS compliant, facilitating ease of integration into a medical device.