Order for Pumps to Operate on Man-made Island
The KSB Group has contracted the delivery of eighteen pumps for the drinking water supply system of Palm Jumeirah, one of the man-made islands off the coast of Dubai.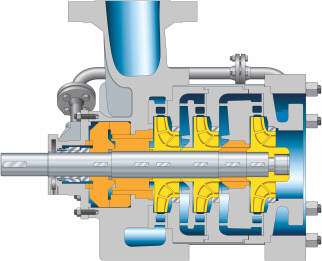 KSB HGM-RO Pump (source: KSB)
The pumps will be employed at two reverse osmosis seawater desalination plants, each of which produces 32,000 cubic metres of drinking water per day.
Among the pump units to be delivered are six HGM-RO pumps, KSB's recent addition to their existing range of high-pressure pumps. Owing to its time-tested radially split design which has already proven its worth in thousands of pumping installations, the pump series stands out because of its very high efficiencies and, hence, very low energy consumption. As far as the pump units' smooth running and ease of maintenance are concerned, these pumps are also far superior to all conventional axially split pumps.
The two installations in Dubai will also be equipped with several booster and transfer pumps. One of the reasons KSB was awarded the order was the Frankenthal-based (Germany) pump manufacturer's ability to supply all required pumps as an all-in package. KSB expects to have finished delivering all pumps by the beginning of 2007.
About KSB
KSB is one of the world's leading manufacturers of pumps, valves and related systems for industrial applications and building services, for water and waste water management and for the energy and mining sectors. The Group has a presence on all five continents with its own sales and marketing organizations, manufacturing facilities and service operations. With a workforce of approximately 13,000 worldwide, the Group generates a total sales volume in the region of €1.4 billion.