Online Shop for Vacuum Equipment
Leading manufacturer of vacuum equipment, BOC Edwards, has launched a new on-line web shop for UK customers. The site is accessed through ...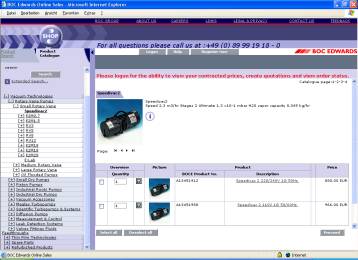 BOC Edwards´ new internet site allows users to select, order and track vacuum equipment on-line
www.bocedwards.com and, once registered,
customers can search for products and check their account terms before
ordering, and then track the status of each order right up to delivery.
Convenient and easy to use, the on-line shop is accessible 24 hours a day, seven days a week. Based on a comprehensive catalogue, it offers everything a customer needs to make an informed purchase decision, including technical data and quote creation.
Purchasing is by credit card or by agreed personalised account terms. Personalised accounts contain all the user's details including order history, order templates and tailored catalogue information. From the shop, users can also sign up for regular BOC Edwards e-newsletters that contain the company's latest products, news and services.
Antonia Adams, market manager responsible for the implementation, comments: "In today's fast moving environment consumers want to be able to buy products at the click of a button. Our new web shop offers a fast and flexible service that also allows constant tracking of orders, keeping the customer informed at all times."
A dedicated customer support team will respond to all queries via email, or phone if preferred. Currently in English, French and German versions of the site will be available in June 04.