Off-Site Manufacture Streamlines New Build Programme For Walsall College
Value engineering approaches to installation of building services have improved efficiency and reduced costs for a major new build project in the West Midlands.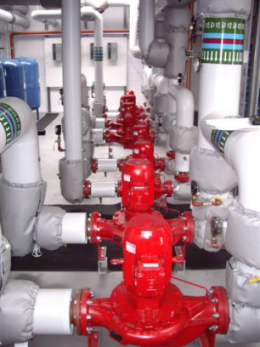 Armstrong
The construction of Walsall College's new Business and Learning Campus is at the heart of Walsall's regeneration and work is nearing completion at the site in Littleton Street.
When specifying the building services part of the project, Balfour Kilpatrick identified that off-site manufacture of plant rooms would offer value engineering benefits, and HVAC specialist Armstrong was chosen as supplier.
Armstrong constructed the two plant rooms at their purpose-designed factory in Halesowen. One of the plant rooms is designed to provide chilled water pumping and the second is a boiler house supplying low temperature hot water. On the date specified by Balfour Kilpatrick, Armstrong delivered the plant rooms to site fully assembled, in enclosures, and requiring only final connections.
Off-site manufacture of the plant rooms had numerous advantages. Work on the building services aspects of the project could take place concurrently with other on-site work. This, in effect, removed it from the critical path, and, as installation and commissioning of the ready-assembled plant rooms could be completed far more quickly, several weeks could be cut out of this part of the programme.
In addition, manufacturing the plant rooms in the more easily controlled environment of a factory, rather than at the construction site, had significant health and safety advantages. Armstrong's factory has purpose-designed equipment for lifting and safe working that are difficult to replicate on-site. In addition, fewer contractors needed to access the College construction site and the volumes of site traffic were reduced. As the construction of the plant rooms also took place under cover, the work could not be held up by adverse weather.
Working in collaboration during the design and specification stage, Balfour Kilpatrick and Armstrong also identified a number of other valuable cost reduction opportunities. The pumps incorporated in the plant rooms are Armstrong vertical inline pumps which do not require expensive and cumbersome concrete inertia bases. By mounting the pumps in the system pipework, the cost of civil engineering work was reduced and the finished positioning of the equipment reduces vibration and noise, as well as making the plant room tidier and easy to clean.
Steve Cooper of Armstrong said, "All educational projects need to meet strict timescales, and overrunning projects are not an option. Off-site manufacture plays a significant part in these kind of projects by removing a number of the "unknowns" that can lead to unexpected delays and bottlenecks."