Oerlikon Leybold Vacuum's New Online Shop Improves on Speed and Services
Oerlikon Leybold Vacuum is pleased to announce the launch of the Vacuum Online Shop, the all-new online store for our vacuum technological products and accessories. After running the Vacuum Shop in the US successfully, the Online Store is now open and ready for operation in twelve additional countries in six languages to shop for products and after sales services.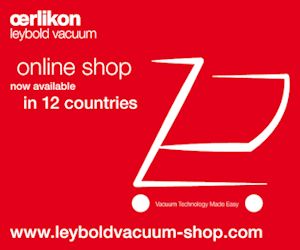 Oerlikon Leybold Vacuum
With high-tech products and innovative vacuum solutions, Oerlikon Leybold Vacuum supports its customers in making full use of their potential. Convenient purchasing access and quick delivery enhances their production processes.
Broad Range of Products
Logging into the Online Shop opens the chance to discover an exciting array of products, spare parts and accessories. The Vacuum Shop is built around a friendly, easy to use interface. Oerlikon Leybold Vacuum is dedicated to providing products and services to the customers that will assure a professional experience when shopping with us. More than ever, value is important, and having an easy access to original spare parts, standardized maintenance kits, small items such as flanges, fittings, valves, or measuring instruments will help to save money and time. Therefore, the Online-Shop focusses on all items, which can be sold without any consultancy - but it also offers vacuum pumps, which are easy to install and represent state-of-the-art components. The shop offers state-of-the art options for payment: advanced payment, secure payment with credit cards or by invoice. Furthermore, there is a discount on all order effected through the shop, even with free shipping for orders exceeding a certain amount. This will also be the forum to check for special offers and sales promotions.
For other items requiring specific consultation, the shop still offers the option to place a request for an offer. Then, highly experienced experts will get back to you to clarify your needs and requirements – from standardized systems to fully customized solutions.
After Sales Services on the Road
With this easy online shopping access, Oerlikon Leybold Vacuum is electronically improving on the already excellent personal customer proximity through the widespread sales and service network. In order to execute on the new global service concept, Oerlikon Leybold Vacuum is investing in the enhancement of the field service network with highly experience and trained service staff. These service technicians will now be equipped with new field service vans containing all items needed to perform high quality maintenance or servicing task directly at the customers' site. This localized service complements the new offer on remote monitoring of vacuum components – in case of any necessary service, field service may be a perfect option to increase the customers' uptime.