Oerlikon Leybold Vacuum Wins Another Order for Steel Degassing
A technologically leading vacuum solution has won Oerlikon Leybold Vacuum another steel degassing order. Jailaxmi Casting & Alloys, an Indian steel producer, was convinced by the innovative systems and redundant components.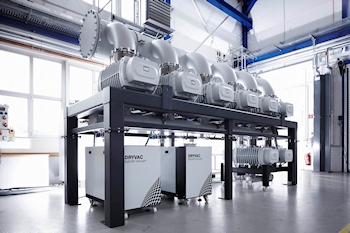 Pump system for VD process (Image: Oerlikon Leybold Vacuum)
"The new system offers the right parameters to significantly reduce energy costs while at the same time being designed to guarantee a stable production process," explains Inamdar Shrikant, Regional Sales Manager for India.
Molten metals contain dissolved gases which can have a harmful effect on the metal during processing. In order to remove these gases safely and refine the metal, the secondary metallurgic treatment is performed using a vacuum. The appropriate vacuum is therefore generated via suitable vacuum systems. Last year, Oerlikon Leybold Vacuum developed a modular vacuum solution for this purpose which has since been successfully implemented around the world for a variety of applications in steel treatment. The mechanical vacuum system meets the tough demands that have been placed on steelworks in terms of reducing emissions and operating costs. Using a modern vacuum system for this process step instead of relying on traditional steam-jet techniques can reduce energy consumption by up to 90 percent.
The new order is for a compact mechanical vacuum system for a 35-ton tank degasser. It will incorporate the latest series of RUVAC WH7000 roots pumps and the dry screw pump DRYVAC DV1200. The robust pumps are suitable for use in processes that generate high levels of dust and steam, and the easy maintenance keeps operating costs low.
The large majority of dry compressing pumps with this pumping speed require almost 20 kW during normal operation. In contrast, the DRYVAC DV1200 uses only 14 kW. Because it only uses two different standard pumps, users benefit from shorter delivery times and greater availability of replacement pumps when service is required. Moreover, because the pumps work in parallel, operations continue and output remains largely unchanged in the event that one individual pump fails - unlike with traditional mechanical systems using one large roots pump.
The new order has increased Oerlikon Leybold Vacuum s market share in strategically important areas. The company s systems are already in use in steelworks in Germany, Italy and China, where batches of up to 120 tons are treated. "This order from India is a positive sign that Oerlikon Leybold Vacuum s vacuum systems are considered efficient and sustainable by the steel market. It also demonstrates the company s successful entry into a strategically important growth market," said Dr. Martin Füllenbach, CEO of Oerlikon Leybold Vacuum.
For VIM (vacuum induction melting) and VID processes (vacuum induction degassing), Oerlikon Leybold Vacuum provides compact and robust fore-vacuum systems which incorporate modern dry compressing screw pumps and roots pumps as well as fuel pumps such as oil steam jet pumps and diffusion pumps. These pumps have been optimized in terms of output, size and cost and are equipped with the latest control systems.
An Austrian customer who has just installed Oerlikon Leybold Vacuum oil steam ejector pumps into the company s VIDP system and exchanged two oil-sealed rotary piston pumps for dry runners expresses his all-round satisfaction: "We have never achieved such a good working vacuum so quickly and are therefore very happy with the output of the new OB pump system. The new dry runners have made an excellent impression too. They save a lot of space, reduce maintenance costs and are more robust in general. They also create a cleaner working environment. Over time we intend to replace all our rotary piston pumps with DRYVAC pumps."