Oerlikon Leybold Vacuum Starts Extended Production Facility in China
Oerlikon Leybold Vacuum today announces the opening of its new production facility in Tianjin, China. The new facility is the third substantial expansion of the existing plant.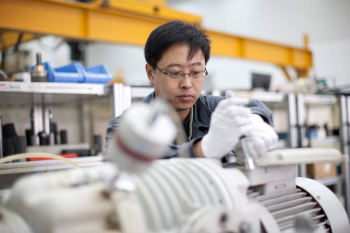 Oerlikon Leybold Vacuum
With this extension, Oerlikon Leybold Vacuum is able to move additional product lines for fore and high vacuum technology into Chinese manufacturing. This investment reflects the importance of Asian market development and the strategic commitment of Oerlikon in China.
Since its foundation in 1997, Oerlikon Leybold Vacuum China has shown an unmatched and steady growth in the Asian market. Since then, the Segments' Asian share of sales has reached more than 30 percent in the first half year 2011. This successful commitment to the Chinese and Asian markets with a strong focus on industrial manufacturing processes has triggered several steps of investments into the Chinese sales and service network and into the production facilities at Tianjin. With the recent investment into a building space of roughly 3'300 sqm, the total building capacity now amounts to almost 12'500 sqm and offers ample space for offices, shop floor, service center and warehouse. This new building was erected within a year.
"The development of our factory site in Tianjin reflects our overall performance and commitment in China. Increasing the scope of our products build especially for the Chinese and Asian markets ensures the continuation of our success story and helps us to further maintain a strong market position with these leading products. We need to be close to our customers to serve them best", says Dr. Andreas Widl, CEO of Oerlikon Leybold Vacuum.
The extended facility now enables Oerlikon Leybold Vacuum China to further increase the manufacturing range with new product lines of single stage rotary vane pumps Sogevac, a new generation of dual stage rotary vane pump Trivac T, and diffusion pumps covering the high vacuum range. The wider variety of locally produced vacuum pumps allows Oerlikon Leybold Vacuum to serve the market with shorter delivery times and improved logistics.
This technology transfer and increase in Asian capacities will not diminish or impede the development of the other productions sites of Oerlikon Leybold Vacuum, which will be further optimized via operational excellence measures.
"China still offers enormous potential for profitable growth, not only for Oerlikon Leybold Vacuum. Together with the development of other emerging markets globalization of Oerlikon moves on. Our knowledge in various fields of high technology and our ability to innovate industrial processes is essential for modern manufacturing", explains Michael Buscher, Chief Executive Officer of OC Oerlikon.
This view is matched by the expansion of the Solution assembly area within the new building at Tianjin, which now offers the potential to build extremely complex high technological vacuum system solutions dedicated to the Chinese market. Oerlikon Leybold Vacuum is a renowned supplier for standardized and fully customized vacuum solutions, especially for industrial coating applications, PV industry, and for metallurgical markets. With this investment, Oerlikon Leybold Vacuum in Tianjin offers all necessary production and servicing options for fore vacuum, high vacuum and leak detection services, topped with decontamination services and system solution know how.