Odessa Pumps Now Certified on Blackmer Compressors
It's a fact of life in natural-gas production: at both the wellhead and tank batteries, some quantity of recovered product will either escape, be vented or flared off into the atmosphere.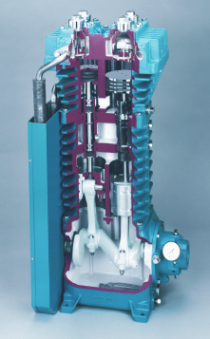 This can be problematic for the field operator for a couple of reasons:
This venting, flaring or escape of vapor means the loss of saleable product.
The venting and flaring process introduces methane, benzene and other Hazardous Air Pollutants (HAPs) into the atmosphere, things that concern the Environmental Protection Agency.
To tackle these problems, field operators are beginning to investigate the benefits that the installation of vapor-recovery units (VRUs) at the wellhead and on their storage tanks can offer them. To date, only between 7,000 and 9,000 VRUs have been installed and are in use in the oil- and natural-gas production sector in the United States, which leaves around 410,000 other storage tanks that do not currently employ vapor recovery. On top of that are the countless wellheads in the field that do not feature vapor-recovery measures.
To aid in this vapor-recovery effort, Blackmer—a leading global supplier of reciprocating-compressor technology for the transfer of liquids and gasses, and a member of the Pump Solutions Group (PSG), Redlands, CA, USA, a conglomeration of six of the world's leading pump manufacturers—is promoting the use of its HD and NG Series Oil-Free Reciprocating Gas Compressors. Blackmer's non-lubricated designs provide a full "distance piece compartment" between the cylinder and crankcase. This allows the user maximum control of any vapors that would normally vent into the crankcase uncontrollably on other designs.
Blackmer, working through Odessa Pumps, Odessa, TX, one of its leading distributors in the state, undertook a tour of Texas in July. In all, Blackmer conducted onsite product training at Odessa offices in Fort Worth, Houston, Corpus Christi, Boerne/San Antonio, the company headquarters in Odessa and, finally, a visit to a working oilfield near Odessa. These visits were designed to introduce Odessa management, sales and fabrication-shop staff to the HD and NG Series compressors, their operation and the key features and benefits they can offer in the field. Odessa Pumps is a specialist in providing turnkey solutions for many types of pump and compressor applications.
Gary Israel, Regional Sales Manager for PSG, and Glenn Webb, Senior Product Specialist for Blackmer Compressors, provided Odessa staff with an HD Series Sales and Application Training Seminar, followed by a hands-on look at an actual production training compressor. The compressor is built with one side as an HD machine and the other side as a NG machine. The HD/NG compressor was disassembled and reassembled by Odessa personnel from the top down, under the guidance of Webb.
"We want to help you help your customers make wise decisions in terms of vapor recovery," said Israel during the training seminar. "The EPA is serious about reducing the amount of HAPs being released into the atmosphere and is becoming aggressive in the determination of the exact damage being done by methane gases and other oil field emissions. Some of these studies being done even consider that methane is actually doing more damage to the ozone layer than CO2 is."
Israel goes on to add, "Tank-battery vapor recovery is a new market for Blackmer, but we've been handling natural gas forever, and Blackmer compressor technology provides the leakage-control capabilities this market needs to keep field emissions under control."
"This is all gonna change in the next few years," acknowledged Carl Jones, General Manager of Odessa's Houston office. "When the EPA starts to get involved, you know you're going to see a paradigm shift."
In addition to the environmental aspects of using VRUs in the oilfield, there is also an economic element involved, as well. For instance, some operators who have already installed Blackmer compressors at their wellheads have made back the cost of the unit from the sale of recovered gas and increased oil production in less than 11 days. Knowing this, it's safe to assume that millions of dollars in recoverable and saleable natural-gas vapors are disappearing into thin air every year.
Blackmer HD and NG Series Reciprocating Gas Compressors, which are available in either single- or two-stage configurations, are positioned to lead the way when this paradigm shift occurs because they are ideal in meeting both the environmental and economic vapor-recovery concerns. They have been designed for maximum performance and reliability under the most severe operating conditions. They are equipped with high-efficiency ductile-iron valves with PEEK valve plates, ductile-iron head and cylinders, a full-compartment distance piece with two sets of self-adjusting filled Teflon TFE packing on each piston rod for maximum leakage control, self-lubricating TFE piston rings, precision-ground crankshaft and a pressure-lubricated crankcase. The non-lubricated design means no lubricating oil is allowed into the cylinder or head area where it could contaminate the product.
About Blackmer
Blackmer is the leading global provider of innovative and high-quality rotary vane pump and reciprocating compressor technologies for the transfer of liquids and gasses. For more than a century, the Blackmer name has stood for unparalleled product performance, superior services and support, well-timed innovation and a commitment to total customer satisfaction. Supported by a worldwide network of distributors and original equipment manufacturers, Blackmer pumps and compressors are used in a multitude of applications in the Process, Energy, Transport and Military & Marine markets. Blackmer—headquartered in Grand Rapids, Michigan, USA—is a member of Dover Corporation's Pump Solutions Group (PSG).