NOV Mono Helps Solve Theme Park Problem
A Series A Muncher has helped resolve a sewage handling problem at one of the UK's most popular theme parks. The unit has been installed at the Drayton Manor Park Hotel at Tamworth in Staffordshire, to macerate sewage from the hotel's 150 rooms before it reaches the pumps which transfer it to the main sewer.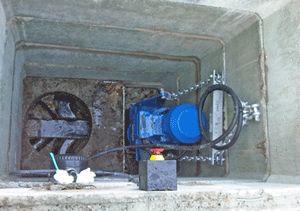 Mono Pumps
Shortly after the hotel opened for business, the transfer pumps began to suffer repeated blockages caused by large numbers of baby's nappies which were being flushed down the toilets. "A macerator wouldn't normally be needed on a hotel project such as this," says Chris Johnson, Principal Civil Engineer of Stewart and Harris Consulting.
"In this case however, there were lots of young children staying at the hotel and a maceration solution was clearly required. We approached Mono for assistance and they suggested that a Series A Muncher would be the best solution. With a capacity requirement of up to 25m3/h, the Muncher would be required to macerate any solids within the flow before they could block the pumps. Mono also gave us some valuable technical help and the Muncher was eventually installed in the system, upstream from the pumps."
The ability of Mono's Series A Muncher to effectively macerate raw sewage, sludges, sewage screenings and industrial process flows has been proven on countless applications. The Muncher's 65 rpm shaft speed delivers low cutter tip speeds which dramatically reduce wear rates when compared to high speed macerators, but without compromising performance in any way.