NOV Mono Grifter Improves Sewage-Handling Operations for Yellowfoot
NOV Mono supplied and installed a Grifter Pump which is transferring sewage for the Yellowfoot Experience at Eton in Berkshire.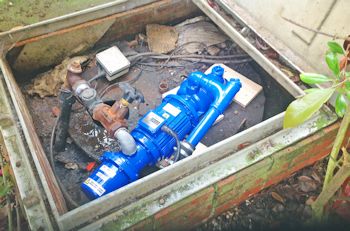 NOV Mono has demonstrated its ability to support its outstanding pump products with reliable installation services by supplying a Grifter combined macerator and pump unit to the Yellowfoot Experience at Eton in Berkshire. UK. (Image: NOV Mono)
The Yellowfoot Experience provides a wide range of team-building, conference, fun-day and event services. "At any one time we can have very large numbers of people visiting our site, so we needed an improved and reliable sewage handling solution to transfer the sewage from the lodge and café facilities to the main sewerage system," says Yellowfoot spokesman Simon Percival. "The Mono Grifter certainly ticked those boxes, and the fact that Mono could also handle the installation work made it the obvious solution to our needs."
The Mono Grifter, with a capacity range of between 1.7 and 4.0m³h,incorporates a tri-hammer macerator and a Mono progressing cavity pump, and is designed specifically for this type of small-scale sewage handling at remote facilities.
The Grifter's macerator provides highly effective protection for the pump, whose suction capacity draws sewage from the sump into the cutting chamber. Fibrous materials, paper and textiles are macerated by the impeller, while more solid objects fall out of suspension and back into the sump for removal.
The positive displacement action of the Grifter's pump means that head is independent of speed, which permits it to operate at slow speeds while still maintaining high head pressure. This contributes towards low wear rates, increased component life and lower maintenance costs.
Mono handled all aspects of this project, including disconnection and removal of the old equipment, installation and connection of the new Grifter unit and all electrical connections.