NIKKISO PUMPS AMERICA Presents New Products
Featured in this year's exhibit of the Pump Users Symposium were NPA's new products: NIKKISO Milflo® Series 5000 Metering Pumps, NIKKISO Magflo® Magnetic Drive Centrifugal Pumps and NIKKISO Flexiflo® Flexible Impeller Pumps.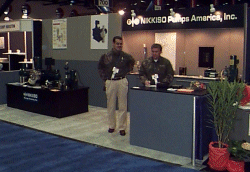 NIKKISO PUMPS AMERICA presents new products at Pump Users Symposium
This year's Pump Users Symposium saw a 50% increase in attendees, which brought a record number of customers to NPA's booth.
The NIKKISO Milflo ® MX Series 5000 is a high performance, state-of-the-art, hydraulically actuated, diaphragm metering pump. The pump is available in simplex or multiplex configurations, with independent capacity adjustment for each pumphead.
All drive parts are fully enclosed and operate in an oil bath which minimizes friction and wear while providing protection from harsh environments. NIKKISO Milflo ® MX Series 5000 drives are all amplitude modulation design, eliminating lost motion and excess shock loads, while assuring longer pump life; and feature the new, patented technology of the X Crank for higher accuracy and efficiency.
A self-compensating hydraulic system assures automatic diaphragm position control and eliminates the need for troublesome vacuum breakers. Hydraulic valving removes any entrained air to maintain a tight hydraulic circuit and steady state accuracy.
The easy-to-read digital stroke length indication enables convenient capacity adjustment between 0.0 and 100.0% while the pump is operating or stopped. In addition to manual control, the pump can be supplied with optional automatic capacity control, making it possible for the pump to control the flow rate in proportion to various process signals. A simple, externally adjustable, internal hydraulic relief valve protects the pump and the process from pump induced overpressure situations.