Newest Generation of the Biral Control Units
A control device is more than just a box for switching a pump «on» and «off». It forms the interface between the man (operator) and the machine (pump).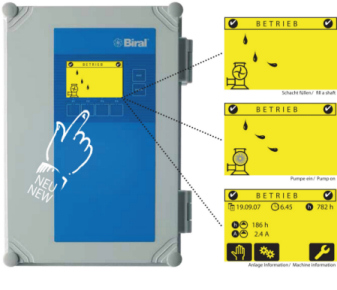 Considerable attention has been paid to this fact. The new control device «tells» the operator or service and maintenance personnel what is happening in the pump shaft and indicates this situation with a graphic display and text.
Range of application
The control device is mainly used for draining shafts, pits and containers in conjunction with one or two pumps. Level control can be provided as required via the digital input with float switch / electrodes or with an analogue input with pressure sensor.
Your benefit
Simple and intuitive operation
Easy installation and user-friendly cable connection with plug-in connecting terminals, no shortage of space
High system reliability and early detection of malfunctions by means of permanent float switch, monitoring and standby operation, to reliable prevention of damage
Simplest possible fault-finding by error message in text and graphics – no time-consuming decoding of error codes and flashing signals
Optimized overall package – many functions are provided as standard and do not have to be purchased later at extra cost