New Variable Speed System for HVAC Applications by KSB
KSB Aktiengesellschaft, Germany, presents a new 230 V version of its motor-mounted PumpDrive Eco variable speed system.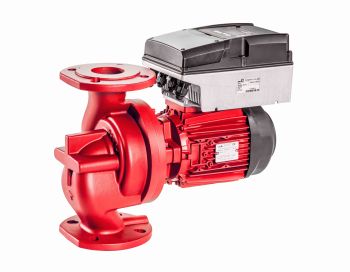 Etaline pump with the new 230 V PumpDrive Eco version (Image: KSB Aktiengesellschaft)
Available for motor ratings ranging from 0.12 to 1.1 kW, this new version has been specially tailored to the requirements of HVAC applications.
PumpDrive Eco features sensorless differential pressure control which comes preset for use with Etaline L. All key parameters relating to pump and motor data are also set at the factory. This reduces the time required for pump set commissioning.
Alongside wireless Bluetooth modules for permanent installation supplied optionally, Bluetooth couplers are now also available. These can be plugged onto the service interface of PumpDrive Eco from the outside. This arrangement improves usability by also allowing communication with systems that do not have their own BT interface. The myPumpDrive app enables users to communicate with the system and make settings via smartphone.
The free app runs on mobile phones with an Apple iOS or Android operating system, ensures service friendliness and speeds up pump commissioning. It also offers an option for managing application-specific data records. The app's commissioning wizard supports the installation of basic functions such as discharge pressure control or differential pressure control. Users also have access to the frequency inverter via the app and can thus optimise the pump system to their specific requirements.
PumpDrive Eco transmits process variables such as differential pressure or pump flow rate to a higher-level control station as analog 4 - 20 mA output signals; this information is now also available in the form of 0-10 V signals. Any warnings or alerts that may occur can be reported via normally open contacts now fitted in the variable speed system. As PumpDrive Eco features vector control with selectable motor control method, it can be operated with asynchronous and synchronous reluctance motors.