New Valves and Fittings Agreement
The Ham-Let Group have signed an agreement with BOC Edwards, one of the world's leading manufacturers of vacuum equipment, to supply valves and fittings to the company's manufacturing and servicing facilities world-wide. The deal is worth around £2.4m a year.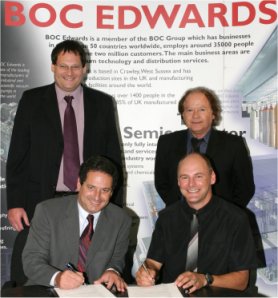 L. to R. Standing D. Topaz, president marketing, Ham-Let; Benny Goldberg, director of sales, Ham-Let. Seated S. Topaz, chief executive officer, Ham-Let; T. Hunter, global supply manager, BOC Edwards.
Tony Hunter, BOC Edwards' global supply manager explained, "We looked at a number of suppliers, but Ham-Let was the only company who were able to negotiate a single world-wide pricing and discount structure. For the last three years we have been using them to supply a limited range of components. During that time we have purchased over a quarter of a million fittings and have not had a single quality or delivery problem."
Founded in 1950, the Ham-Let Group specialise in the design, development, production, and marketing of high quality instrumentation valves and fittings in a wide variety of materials for high pressure, temperature and vacuum applications. An accent on quality combined with ongoing research and development has given the company an international reputation for excellence. As a result, the Ham-Let Group today is the fastest growing company in this industry. Despite this growth, customers still receive personal attention, with best quality products and good deliveries.
Ham-Let products are employed around the world in a wide range of industries, including: Petrochemical, Semiconductor, Energy, Food Biotechnology, Pharmaceutical, Defence, Pulp and Paper, and Mining.
BOC Edwards, part of The BOC Group plc, is a leading supplier of integrated solutions for the manufacture of microelectronics devices, including silicon semiconductors, compound semiconductors and flat panel displays. BOC Edwards is also a world leader in vacuum technology for industrial and scientific applications with over 3500 employees and annual sales in the year to 30 September 2002 of £688m.
Serving two million customers in more than 50 countries, The BOC Group is one of the largest and most global of the world's leading gases companies. It employs over 46,000 people and had annual sales of just over £4 billion (US$6.3 billion) in 2002. For more than a century BOC¹s gases and expertise have contributed to advances in many industries and aspects of everyday life, including steel-making, refining, chemical processing, environmental protection, wastewater treatment, welding and cutting, food processing and distribution, glass production, electronics and health care.