New Vacuum Pump System Helps Reduce Energy Costs and Improve Product Quality
A new mechanical oil-free vacuum system from Edwards for degassing steel alloys offers dramatic savings in energy costs of more than 90% compared to traditional steam ejector systems.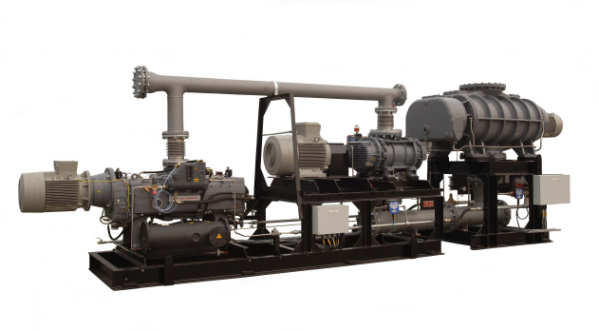 Steel producers, and those making specialist alloys for aerospace and other applications, will find that the Edwards vacuum system could play a significant role in helping them reduce their carbon footprint. It is being launched, ahead of January 2008 when Phase II of the EU Energy Trading Scheme (Directive 2003/87/EC2) comes into force. Under Phase ll the scope of the scheme is to be expanded to include all greenhouse gases, not just CO2 as now. Companies running energy intensive processes may well find themselves liable for significantly increased 'offsetting' costs as a result.
Vacuum degassing (VD) and vacuum oxygen decarburisation (VOD) are used in the production of speciality steel alloys to reduce the levels of hydrogen, carbon and other impurities during the secondary steel making process. Traditionally producers have used large, energy-hungry multi-stage steam ejector systems, backed with liquid ring pumps. Such systems not only require consistent high quality steam, but can also suffer from fore-line dust deposits that develop into "cakes" making cleaning difficult.
The new dry pumping system from Edwards consists of HV30000, SN7000 and IDX1000 pumps arranged in three stages, pre-mounted, piped and fully wired on a two-part skid. Each skid is nominally capable of vacuum degassing around 23 tonnes of steel, so a number of skids can be mounted in parallel and integrated with the steel degassing tank to suit the required ladle size, typically up to 160 tonnes or more.
The oil-free vacuum pumps are ideally suited to pumping the off-gas mixture containing traces of metal and refractory dusts normally found in these processes. The pumps are selected for each stage from Edwards' wide range of vacuum equipment and combined to make a system which is fully optimised to the pumping speed and compression requirements of the application. The result is a robust, high efficiency, expandable, modular design, easy to install and operate in typical steel degassing environments.
The energy costs associated with running the new system have been shown to be less than 10% of that for a steam ejector system in both VD and VOD applications.
Further, quality of the final product is improved by using dry pumps. Residual hydrogen is reduced because the back-streaming effect associated with steam ejector systems is eliminated, and because evacuation is faster, closer control of the chemistry is possible. As a result, manufacturers will be able to produce more consistent formulations, and to optimise their products for more specialist applications.
Other operational benefits include reduced maintenance, and easier cleaning and waste disposal.
About Edwards
Edwards (formerly BOC Edwards) is a leading supplier of integrated solutions for the manufacture of microelectronics devices, including semiconductors and flat panel displays. It is also a world leader in vacuum technology for industrial, scientific, process, and R&D applications. Edwards employs around 4,000 people globally, in the design, manufacture and support of high technology vacuum equipment. Edwards invented the concept of the commercial oil-free 'dry' vacuum pump and now supplements this with a wide range of other pumping technologies as well as related products and services.