New Tri-Colour Multi-Function Indicator
Sensing and Instrumentation specialists Vydas International Marketing has announced the release of the new MICRA-M multi-function TRI-COLOUR digital indicator, extending the range of their Kosmos digital panel meters.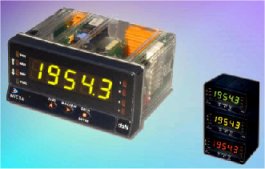 New Tri-Colour Multi-Function Indicator (photo: Vydas).
These new instruments manufactured by DITEL, offer the latest technologies and multi-function capabilities in the new MICRA series and are suitable for a wide range of industrial control and measurement applications.
The new Ditel MICRA-M is a multifunction indicator/controller which is programmable by front panel buttons or software for Load Cells, Process and Temperature. It has a large bright TRI-COLOUR display with programmable colours which may be chosen from green, orange and red for each phase of measurement, programming or alarms.
With a Display ± 19999 (4½ digits), the instrument is easily scaleable and offers TARE, PEAK/VALLEY and FILTER functions, as well as 12 user programmable logical functions.
The power supply is a universal type (85-265 Vac/100-300 Vdc) or alternatively low tension (21-53 Vac/10.5-70 Vdc).
The new MICRA-M offers the possibility of three simultaneous output options. Contact: with two relays, four relays, four optocoupler PNP type or four optocoupler NPN type. Communication: with RS232C, RS485 (MODBUS RTU Protocol) and Analog Outputs: 4-20 mA or 0-10 V.
The instrument is totally configurable from the front panel or from a PC with free set up software and offers a resolution of ±15 Bits and segments linearization (10 segments).