New TEFC Motor Options for FTI Drum Pumps Available Through Michael Smith Engineers
Pumping specialists Michael Smith Engineers have introduced new TEFC (Totally Closed Fan Cooled) IP55 motor options for their range of Finish Thompson drum and barrel emptying pumps. This type of pump is the most reliable and efficient method of transferring a wide range of fluids from container-to-container compared to hand pumps, and these new motor options extend their capability to an even wider range of applications.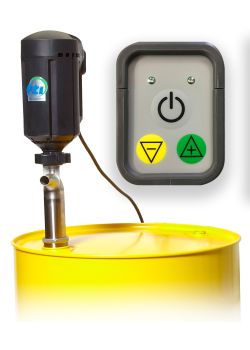 Michael Smith Engineers
The new motors include a powerful 1000 Watt continuous duty universal motor providing 0-12,000 rpm variable speed operation. The variable speed TEFC versions feature solid state control with chemical resistant touch pad for precise fluid dispensing and superior motor protection against overload and over temperature.
These motors provide 10 selectable speeds which can be easily controlled up or down by pushing appropriate key on the keypad. The motors also recall the last running speed when the power is switched on. LED lights provide useful feedback about the motors state – a blinking green light indicates the motor is in standby mode, a solid green light indicates the motor is on, a blinking red light indicates over-temperature and a solid red LED indicates over-current.
These motors also incorporate a zero voltage safety release feature which prevents the motor from turning back on after a power failure. The option of a lower cost, fixed speed version is also available.
Both the fixed speed and variable speed versions of these new motors are available for the best-selling PF series of drum pumps – available in polypropylene, PVDF or stainless steel in a choice of different lengths – as well as for the TB, TT and HVDP drum pumps and the TM drum mixer unit.
Connection of the motor to the drum pump is quick and simple without the need for tools, thanks to a unique collet design, while a threaded connection option is available for the HVDP Series.