New Technology Helps Eliminate Compressor Moisture Damage
New IRIS® in-line scrubber technology from Multiphase Power and Processing Technologies (MppT) offers operators of reciprocating and turbo compressors in the pipeline and gas industry an effective, easy-to-install alternative to traditional methods of separating liquids from gas in pipelines.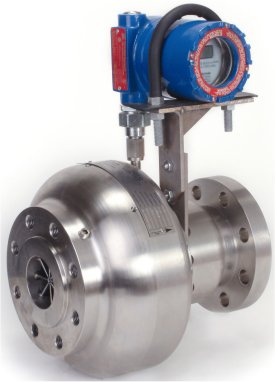 IRIS-Silo
If allowed to remain in the lines, moisture can cause erosion damage that can significantly affect performance in a matter of weeks. While a number of separation techniques have been used in the past, these methods are typically difficult to retrofit, or inefficient in their ability to protect equipment. The IRIS in-line rotary separator has an efficiency of 99.99 percent separation (down to five microns) and can be installed in a less than a day.
MppT is a joint venture formed by Aker Kvaerner and Dresser-Rand Company (D-R) in 1998. The new company combined the experience D-R has in designing and manufacturing reliable rotating machinery with Kvaerner Process Systems' expertise in packaging and separation technology. The objective was to develop and market proprietary expanders and other equipment to separate gases and liquids with the opportunity to generate power from previously wasted energy during oil and gas production.
The IRIS in-line rotary separator is a dynamic cyclone designed to work equally well in wellhead or pipeline applications to remove liquids from the gas flow in upstream pipelines. In these applications even small amounts of liquid can cause severe damage to compressors and reduce the service life of valves, liners, rings, rotors, and related equipment. The IRIS unit replaces, or may be used to complement, undersized existing vessel-based scrubbers.
In extensive testing conducted by MppT at the ChevronTexaco Ramirez Gas facility in Laredo, Texas, and at Hardman Resources at Woodada, West Australia, the IRIS unit achieved a separation efficiency of 99.99 percent over the design range. Testing was conducted at both the wellhead (in Laredo) and on the export gas line (at Woodada).
The IRIS separator is the most compact scrubbing device available, allowing it to be installed quickly with minimal alterations. The bi-phase device contains a rotary drum that uses gas pressure to spin liquids out of the gases. The IRIS assembly consists of three major components -- an inlet housing, an exhaust housing, and a rotor/bearing system.
The inlet housing contains the swirl generating passages, liquid collection volute, inlet pipe flange, and inlet end bearing housing. The exhaust housing contains the diffuser/flow straightening vanes, the exit-end bearing housing, and the exit pipe flange. The rotor assembly consists of a drum pressed onto the shaft. Both inlet and outlet bearings are specially designed roller element bearings with separate, pressure-balanced seals to minimize process contaminants entering the bearings. A single flange keeps the inlet and exhaust housings together to form the pressure containment.
IRIS devices can be affixed to pipes from one to eight inches in diameter, making them suitable for most gas well applications. "The design is scalable, so producing other sizes is possible, but is dependent on the market," said Cody Novosad, IRIS product manager for MppT.
As an in-line device, retrofitting IRIS units to existing pipelines is easier than other methods of liquid and gas separation. "Because the IRIS separator is in-line technology similar to a valve or flow instrument, there's no additional piping or routing. In fact, just two flanges connect the device to the existing pipeline, so we've been able to install a unit in several hours without difficulty," Novosad explained. Because of the compact design and low weight, the unit does not require significant tooling or labor for change-out, and no additional maintenance is required for normal operation. "The ease of a retrofit is even more significant when you consider that some operators have no liquid or gas separation system in place at all," Novosad said. "Their savings on maintenance would be remarkable and immediate."
In offshore gas compression applications where platform space is a premium, the innovative separator offers similar advantages. Traditional separation vessels are bulky and prone to problems such as foaming that can affect the system's sensors. "The IRIS in-line rotary separator is much smaller than traditional offshore separation systems, and it's more effective," Novosad said. "We have a prospective client operating in the North Sea who, because existing separator performance is inadequate, has spent millions of dollars on replacement equipment damaged by liquids. We've recommended the IRIS device as the obvious solution."
Although the IRIS separator was designed with the oil and gas market in mind, MppT recognizes its potential for success in other markets, as well. "Because it's so effective at removing practically any liquid from a gas flow, it's just as applicable to air systems in the pharmaceutical, food processing, or any number of other process industries," Novosad said.
MppT has licensed the Dresser-Rand Product Services Division to be sales and service agents for the units throughout the Americas. "This agreement provides us with a great opportunity to increase sales potential and shows a commitment by Dresser-Rand in the products MppT has developed," said Greg Ross, general manager of MppT. MppT will use Dresser-Rand and Kvaerner Process Systems' offices worldwide to provide sales and service support for the IRIS technologies and the newer, larger RST packages.
IRIS® is a registered trademark of Multiphase Power and Processing Technologies (MppT).Dresser-Rand is a leader in energy conversion technology, with field-proven centrifugal and reciprocating compressors, steam turbines, expanders, gas turbine packages, and control systems. The company is positioned to deliver a complete package of solutions, from initial concept to equipment retirement for the oil and gas, chemical, and petrochemical industries.
Additional information about the company can be found on its web site. Dresser-Rand is part of worldwide Ingersoll-Rand. Further information on IR can be found on the company's web site www.irco.com.