New Sludge Heat Exchangers
Innovative thinking and 40 years experience in the municipal and industrial wastewater sector lead Lackeby Products from Sweden to develop their unique range of VSV sludge/water high performance heat exchangers.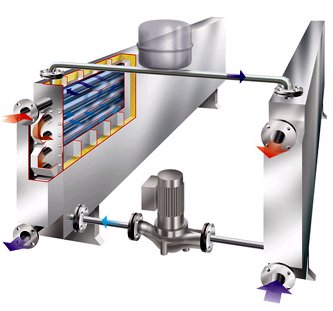 The VSV heat exchanger can also be used for sludge to sludge heating applications using two units with closed circuit water loop and pump. The all stainless steel, high performance and insulated heat exchanger has been specially developed to meet special requirements for the heating or cooling of sludge in Wastewater Treatment Plants.
The VSV heat exchanger channels provide a large throughput area that keeps pressure loss low and minimises the risk of clogging. Each level of sludge channels is surrounded by a rectangular water circuit, in which water for heating/cooling flows in the opposite direction to the sludge. The unique patented open turning chambers contribute to a very compact design of heat exchanger that is simple to install. Inspection, disassembly and maintenance are made easy because the turning chambers are mounted on a common flanged assembly.
The innovative turning chambers provide even higher heat transfer by equalising the sludge's temperature profile and delivery low running costs. Pump Systems Ltd has recently been awarded a supply contract to supply six Lackeby VSV sludge heat exchangers to the Christchurch City Council for a new digester project together with new sludge transfer and circulation pumps.