New Sizes and Additional Communication Modules Extend the Scope of Soft Starter Applications
Siemens is extending the range of sizes and communication flexibility of the innovative Sirius 3RW5 soft starters. The new size 5 range of the 3RW55 provides a soft start for motors with an output of up to 1200 kilowatts.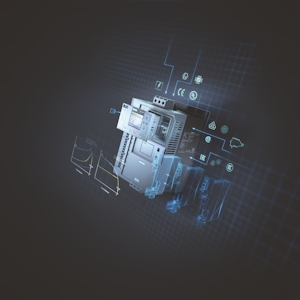 Siemens is extending the range of sizes and communication flexibility of the new Sirius 3RW5 soft starters. (Image: Siemens)
The three new communication modules Profinet High Feature (Process Field Network, open Industrial Ethernet standard), Modbus RTU (Modbus Remote Terminal Unit, open communication protocol) and Ethernet IP (Ethernet Industrial Protocol, real-time Ethernet) now allow the soft starter to be connected more flexibly to higherlevel communication networks.)
The Profinet High Feature communication module offers a particular benefit in the form of an integral Ethernet switch. This allows communication to take place in a ring structure and communication is maintained via a second port even in the event of a power outage. Also line topologies can now be implemented. The new communication modules supplement the existing range of Profibus (Process Field Bus, standard for field bus communication) and Modbus TCP (Modbus Transmission Control Protocol, open communication protocol) and allow the soft starter to be integrated into TIA (Totally Integrated Automation). This simple connection to the automation environment allows the data to be transmitted to a cloud such as MindSphere, Siemens' open IoT (Internet of Things) operating system.
Global certification and numerous applications
Other functions available with the Sirius 3RW5 include automatic parameterization, pump cleaning and a robust electrical structure when line voltages fluctuate. And the soft starter benefits from innovative hybrid switching technology, which enables particularly efficient and cost-effective use. The excellent housing design was recognized with the if-design Award 2018: It is exceptionally compact and helps produce space-saving control cabinets. The many certificates and approvals such as IEC standards (International Electrotechnical Commission), UL (Underwriters Laboratories, an organization which tests and certifies products with respect to their safety) and CSA (Canadian Standards Association, a recognized quality mark in North America) allow the devices to be used throughout the world. Sirius 3RW5 units are used in many different areas from pump and fan applications, through compressors and conveyors, and are now moving into manufacturing.