New Site with Focus on Steel Industry
ITT Flygt launches the steel industry campaign site presenting its solutions for water supply, mill scale and slurry handling, as well as water and wastewater treatment.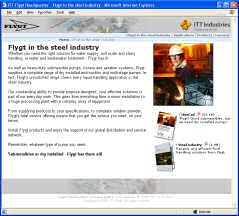 ITT Flygt's steel industry campaign site
As well as heavy-duty submersible pumps, mixers and aeration systems, Flygt supplies a complete range of dry installed end-suction and multistage pumps. In fact, Flygt's range covers every liquid handling application in the steel industry.
The outstanding ability to provide purpose-designed, cost effective solutions is part of the company's everyday work. This goes from everything from a minor installation to a huge processing plant with a complex array of equipment.
The new website presents products and typical applications related to the steel industry.