New Sewage Lifting Box
Espa introduces at the ISH 2003 one of the highlight products of its Systems range. Clean is a sewage lifting box for the disposal of lavatory and waste water that constitutes the perfect solution for allowing the fitting of sanitary installations, such as WC, sinks, showers, washing machines and dishwashers, in any part of a house, mainly for those situated below sewer level.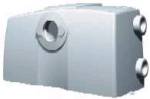 The new Clean sewage lifting box guarantees all the features sought after by users: easy installation, a compact and functional design (Clean is considerably narrower than the other sewage lifting boxes availables on the market, allowing for complete integration between the wall and the toilet) and discreet, silent operation.
Furthermore, Clean has been created with maximum convenience in terms of its maintenance and constitutes a genuine revolution in the sanitary evacuators sector. Its innovative sealing and assembly technique, makes possible to replace the grinder pump without users coming into contact with the material contained in the tank. The grinder pump can be extracted easily and hygienically, only raising a lid.
The innovative nature of Clean also offers the option of disposing of, besides lavatory water, water from showers, sinks or washing machines, as it has three additional inlets for grey water. Another of the new features of Clean is that the flow pipe's outlet can be in 3 differents ways, providing total flexibility when installing the system. Clean grinds and disposes of waste and grey water at a height of up to 8 metres and a distance of as far as 100 metres away.