New Series of Planetary Gear Units Offers High Efficiency
Siemens has widened its portfolio of planetary gear units. The Planurex 3 is available in ten sizes, with a torque range from 1,700 to 5,450 kNm. This raises the highest torque in the standard modular system from the previous 2,600 kNm up to 5,450 kNm.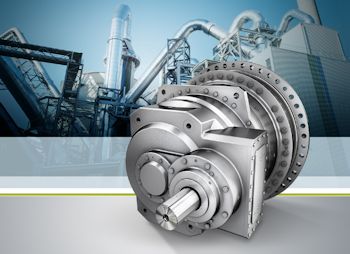 The Planurex 3 planetary gear unit series is available in ten sizes, and has the highest efficiency in its class. This technologically further developed series replaces the previous Planurex 2, initially in the XL range up to 5,450 kNm.(Image: Siemens)
The size grading is harmonized to reduce the jump in power ratings between different sizes. This makes a suitable torque and a suitable transmission ratio available for almost every application. The gear units also have the highest efficiency in their class. This has been achieved by increasing the torque density (Nm/kg) by an average of 17.2 percent in comparison to the previous series. A compact design enables space-saving, high transmission ratios to be achieved. This not only reduces the weight, but also the stress on the gear unit and application. Planurex 3 is part of an Integrated Drive System (IDS), which is available as a complete solution, comprising motor, gear unit and coupling, combined with an oil supply system. The integrated drive system facilitates economic, efficient plant operation, as the components are perfectly matched to one another.
The technologically further developed Flender Planurex series 3 replaces the Planurex 2 planetary gear unit series, initially in the XL range up to 5,450 kNm. The harmonized size grading across the entire torque range allows better dimensioning of the gear units. Thanks to their ruggedness, all sizes of the new planetary gear unit can absorb peak loads up to twice their nominal torque. Siemens has also extended the warranty on the Planurex 3, and shortened its delivery times.
Planetary gear units are primarily installed where high output ranges are required in limited space. They are typically used as roller press and central drives for tube mills in mines and cement plants.