New Series: Glanded Pumps with Optimised Functions
Wilo has introduced a new generation of electronically regulated, glanded pumps: the single pump Wilo VeroLine-IP-E and the double pump Wilo VeroTwin-DP-E. These pumps have been adapted to meet future demands and replace, with immediate effect, the well-known series IP-E and DP-E.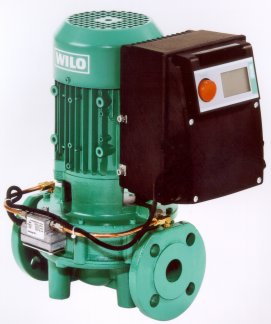 The electronically regulated inline pump Wilo VeroLine-IP-E enters the market with improved functions and features and replaces the well-known IP-E series (photo: Wilo AG, Dortmund).
These single-stage low-pressure centrifugal pumps are ideal for large technical installations and for a wide range of applications in the hot water, air-conditioning and cooling sectors. The operating modes can be set separately for heating and air-conditioning applications.
The new models can be installed easily in the place of their predecessors since the dimensions, electrical connections and operating parameters of both series are identical. The permissible temperature of the medium to be pumped is between - 10 and + 120 °C. The proven axial face seal guarantees a long operating lifetime. The cataphoretic coating of the pump makes it extremely resistant to aggressive atmospheres such as high relative humidity, condensation or salty surroundings. The integrated frequency converter for electronic regulation of a constant or variable differential pressure has been redesigned and now offers even more functions. In particular, the double pump management function for air-conditioning and cooling applications has been optimised in the new pump generation. In addition, the regulation accuracy of the pumps has been made even better.
The well-known "red button" is used to set the most important basic data of the pumps. The clear display provides information about all important functions, such as the operating state, the type of regulation, the differential pressure or the speed setpoint and the operating mode. Another positive feature is the IR monitoring function: the operating and servicing unit Wilo IR Monitor can communicate with the pump without wires. The pumps of the VeroLine-IP-E and VeroTwin-DP-E series also comply with LON and PLR, which means that they can be connected to building automation systems. The double pumps have an integrated double pump manager.