New Sera Piston Diaphragm Pumps
sera has developed four new types of multilayer diaphragm pumps and four new types of piston diaphragm pumps featuring the multilayer diaphragm technology.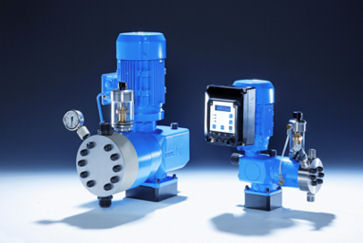 The new sera piston diaphragm pumps R410.2-120KM and C409.2-10KM
These include two types for the local, manual control (R-series) as well as two types with integrated control electronics (C-series).
By offering the new piston diaphragm pumps, sera has responded to customer requests for performances between 7.5 l/h and 900 l/h at an operating pressure of up to 80 bar. For operating pressures in the area of 20 bar, sera is offering the new multilayer diaphragm pumps for capacities of 10 l/h to 1,200 l/h.
The new pumps are ideal for high precision dosing of aggressive or toxic chemicals in an environmentally friendly way. The range of application of the piston diaphragm pumps includes the chemical, petrochemical, pharmaceutical industry and the food and drink industry, e.g. the dosing of additives as well as the disinfection of drinking and process water in systems with pressures greater than 10 bar. In power plant engineering, the piston diaphragm pumps are used for the dosing process during the boiler feed water treatment.
The two new pump types impress the user with their multi-layer diaphragms made of PTFE with an integrated diaphragm rupture indication. In addition, they are ideally suited for the pumping and dosing of nearly all liquids of low and medium viscosity as well as conductive and non-conductive liquids. The multilayer diaphragm ensures the separation of the drive from the parts in contact with the fluid. The new multilayer diaphragms are designed to prevent any contact between the pump hydraulic and the medium even in the case of a breakdown, thus preventing both corrosion within the pump and contamination of the fluid or the environment. This reduces the life cycle costs (LCC) and increases process reliability.
The mechanical equipment of the piston diaphragm pumps has another distinctive feature - an adjustable, integrated hydraulic overflow valve which protects the pump from excess pressure.
When equipped accordingly, the R-series can even be used in ATEX-Zone 1.
The C-series includes the proven control electronics from sera. This is a new approach for dosing pumps that are used in medium pressure applications. The control electronics allow, amongst other things; the monitoring of container filling levels, the monitoring of the status of the diaphragm, the flow control or flow measurement as well as the alteration of the stroke speed to the viscosity of the pumped medium. It is also suited for control with conventional analogue and digital signals. It is cost-efficient and can be easily used for automated processes thanks to the plug & dose principle and can thus be integrated into nearly all existing systems of the operating company.
Optionally, the control electronics features a profibus-DP-interface which is suited for communication with the latest generation of bus systems.