New Rotary Lobe Pump from Netzsch Needs 10 Percent Less Energy
Electric motors account for around 69 percent of power consumption in manufacturing businesses according to the European Commission's Motor Challenge Programme. Pump systems constitute the largest individual item in this area, with just under a third. Conveying systems represent a substantial cost factor, particularly in chemical, food and pharmaceutical industries where emptying, transporting, dosing and filling are some of the core processes.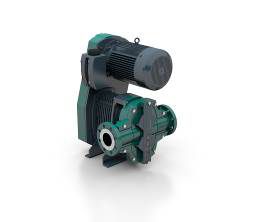 Ten percent less energy consumption with the same performance: the new Tornado T2 has been specially designed for efficiency and reliability in the processing industry. (Image: Netzsch Pumpen)
In order to meet the growing pressure to achieve efficiency in this area, Netzsch Pumpen & Systeme GmbH has developed the Tornado T2 rotary lobe pump. Conventional design principles were comprehensively reworked on the basis of established displacement technology, so as to reduce service times, increase operational reliability and lower both materials and energy costs.
Pumps in the processing industry must operate in a pressure-stable, constant and smooth way – but at the same time they should also be low-maintenance and have reasonable operating costs. Positive displacement pumps have already proved their worth over a long period of time in a variety of fields of application. They achieve high pumping capacities, are self-priming, are resistant to dry-running and convey without strong pulsation or shear forces. They are suited to low to high viscosity, abrasive media, either containing solids or gases, lubricating or non-lubricating. It was essential to keep these typical characteristics when reworking the pump and in addition to increase the efficiency still further through design modifications.
New mix of materials saves energy and reduces wear
Reversing the materials in the pump chamber represents a crucial innovation. Instead of elastomer lobes rotating in a steel chamber, light hollow rotary lobes made of steel or stainless steel are used here running in a housing lined with a specially shaped elastomer insert. The particular advantage of this is that the thin-walled rubber skin of the insert is less seriously affected by temperature fluctuations than the relatively thick rubber layer of the previous rubber lobes. This means that expansion and contraction are easier to control, which enables significantly tighter tolerances in the manufacture of the elastomer components. For a radial gap actually to develop, a far greater amount of elastomer would have to be worn away from the whole radial area of the insert than on the lobe tips of the previous rubber lobe design. The clearances can therefore be reduced to the minimum which is technically feasible and this increases the overall level of efficiency.
In addition, it was ensured that only steel and rubber surfaces come into contact at any time anywhere in the pump chamber. To achieve this, a precisely dimensioned elastomer insert was vulcanised onto the edges of the rotary lobes, so that there is not only a hard-soft contact between lobes and housing during rotation, but also on the contact surfaces of the lobes with one another. This structure reduces friction and thus power loss as well. The new design was able to lower energy consumption by around ten percent overall in comparison to previous models.
In addition, this mix of materials means less wear and greater preservation of materials in general. Until now, elastomer lobes have been exposed to strong dynamic forces when in operation and these accelerate the ageing of the material. In contrast, steel is resistant to motion for a considerably longer time, which means lower costs for maintenance work and spare parts. Conversely, when signs of wear appear, the new elastomer housing insert can be replaced considerably more quickly and at a much lower cost than the standard wear plates. The special geometry of this casing with its machined-in pockets also reduces pulsation, which means the Tornado T2 with straight bi-lobe rotors achieves similar low pulsation values to complex spiral lobe designs. In addition, the simpler and more robust lobe shape enables simple replacement of individual rotary lobes and means a smaller backflow thanks to its longer sealing line. Fewer lobes mean larger free flow chambers in the pump, which allows a larger free ball passage. Media with coarse solids can therefore be conveyed reliably with low wear.
Lower maintenance costs and more reliable operation thanks to new technologies
With a view to the lowest possible maintenance and cleaning costs, the pump was designed in such a way that the whole front can be taken off so as to have maximum free access for maintenance work. In addition, this design minimises the metal surfaces that come into contact with the product and thus corrosion problems as well. The rotary lobes are attached with innovative taper lock ringsets outside the housing, so that they can be quickly dismantled without any special tool and refitted just as easily. An integrated positioning and installation gauge makes positioning easier in this process. Before fitting the rotary lobes, the preset mechanical seal cartridges are put onto the integrated casing, fixed and pushed over the shaft together with the rotary lobes, thus saving time as well. The modular design of the seals also allows different cartridge types to be installed in a uniform seal housing. The sliding surfaces of the shaft seals are free of any dead spaces, positioned flush with the rear of the lobes in the pump chamber and are constantly rinsed by the conveyor medium. There are no dead spaces outside the flow area where impurities collect and lead to seal damage. Likewise, due to the new attachment technology, the rear surfaces of the rotary lobes remain smooth and do not provide any contact surface for fibres or solids. This not only prevents any clogging or blocking, but also means that the pump can be cleaned manually or according to the CIP process without any complications.
In addition to the actual conveying elements, the new rotary lobe pump s drive was also redesigned, focusing on installation, operational, environmental and loss of production costs. To achieve this, the expensive timing gear which is prone to faults was replaced by a simple toothed belt which comes under the normal warranty cover. The belt, which has teeth on both sides, is used both for power transmission and for synchronisation of the rotary lobes. If a large solid body which could not be conveyed were to get into the pump chamber, this would not lead, as before, to the gearbox being damaged or the shaft broken, but simply to the belt jumping or rupturing in the worst case scenario. A ruptured toothed belt does not lead to any kind of consequential damage, such as the destruction of the timing gear for example.
It was also possible to significantly reduce the provisioning of spare parts, which had previously often been very extensive, because the efficient structure of the belt drive only involves a small number of components and is also very robust in terms of defects. This drive also runs very smoothly and generates hardly any vibrations, noise or friction heat. This means the rotating components in general are preserved and last longer. If it becomes necessary to replace the toothed belt, this can quickly be removed by loosening two screws, which results in considerably shorter downtimes in comparison to a complete gearbox overhaul. Furthermore, expensive oil changes throughout the service life are a thing of the past, because the synchronisation works completely without oil. Leaks which damage the environment are also ruled out from the outset.
The bearing housing is a fully encapsulated unit that is lubricated for life. Any ingress of conveyor medium is ruled out. Shaft diameter, manufacturing tolerances and bearing quality allow retrofitting of double-acting mechanical seals as standard. All-metal pumps can be operated with very tight clearances and a correspondingly high level of efficiency.
Special model for critical media
The slim design of the new Tornado T2 makes it far more compact and around 30 percent lighter than comparable models and it can therefore be used for mobile applications with any problem.
It is suitable for sensitive foods such as edible oil as well as for aggressive chemicals, such as highly abrasive concrete primer for example.
There is also an all-metal model for particularly challenging media. The all-metal pump is available in stainless steel, special steels or also with coatings, so that it is resistant to chemically aggressive media, high temperatures or abrasive media too.
An electropolished model is also available.