New Range of Booster Sets
WILO is launching a new range of packaged electronic pressure booster sets, called the Comfort Vario range. Uniquely this range utilises Wilo's canned rotor technology which results in extremely quiet operation, ...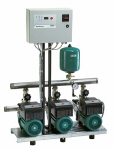 typically up to 20dBA quieter, in comparison to conventional pumps and feature infinitely variable speed control, ranging from 1100rpm to 2750rpm, enabling each pump to respond instantly to changes in demand.
The new booster sets can be used in a wide range of water supply and pressure boosting applications. Due to the quiet operation it is particularly suited to applications sensitive to noise including residential, office and public buildings, hotels and hospitals.
Depending on requirements, the booster sets can be supplied with two to four MVISE maintenance free, high pressure centrifugal pumps. Designed for a variety of pressure boosting applications, the new Comfort Vario range features integrated automatic speed control and is capable of providing a flow rate of up to 42m³/h at heads of up to 100 metres.
The pressure booster sets are monitored and controlled by a dedicated controller in conjunction with a number of pressure and level control sensors. In addition, parameter settings, safety and control functions plus any necessary adjustments can be made using an alpha numeric LCD display which features a simple to use menu guide.
The new fully self contained Comfort Vario range is supplied complete with all the necessary pipe work, hydraulic fittings, main control unit, pressure sensor and electrical wiring. In particular, all pipe work and manifolds are manufactured from 316L stainless steel to guarantee compatibility with pipe materials commonly used in mechanical building services. Additionally, the new electronic booster sets exceed the requirements of DIN 1988 and comply with EMC requirements of EN 50081 T1 and EN 50081 T2.