New Pump Provides Versatility
Moyno offers the Moyno® 600 Series Progressing Cavity Pump, a positive displacement, general utility pump that can handle an extensive range of applications from clean, clear liquids to viscous, abrasive fluids.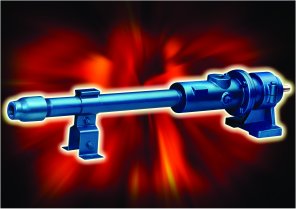 Moyno 600 Pump Series (photo: Moyno).
Moyno 600 Series Pumps include innovative design characteristics for optimum performance such as the elastomeric tube stator that delivers high volumetric efficiency in low as well as high pressure applications. The tube-type stator design permits additional length to be added, increasing pressure capabilities. A resilient cushion and cradle mounting on this self-priming pump provides mounting versatility to easily and inexpensively fit within a wide range of process system configurations.
Additional features of Moyno 600 Series Pumps include the following:
Capacities to 30 GPM
Pressures to 600 PSI
Packing or mechanical seals available
Moyno, Inc. is a leading manufacturer and marketer of Moyno progressing cavity pumps, multiphase fluid transfer systems, grinders and controls. It has an extensive worldwide stocking distribution network that serves a wide range of industries including water and wastewater treatment, pulp and paper, chemical, food, pharmaceutical, mining, petrochemical and oil and gas recovery. Moyno, Inc. is a unit of Robbins & Myers, Inc.