New Pump Hoses for Food Applications
Watson-Marlow Pumps Group is introducing a new food grade hose for use with Bredel pumps. FDA and EC compliant, the new F-NBR hoses offer better wear resistance and longer life for improved production efficiency and process/product safety.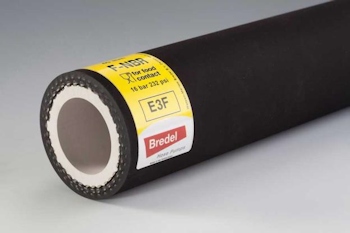 New pump hoses for food applications with 80% greater life (Image: Watson-Marlow)
Any manufacturer in the food and beverage sector that is using peristaltic pumps to dose additives or transfer abrasive, shear sensitive and viscous substances, will know all about the need for process uptime. To better meet this perennial requirement, Bredel is launching its F-NBR food grade hose which meets FDA 21CFR177.2600, EC 1935/2004 and BfR XXI cat.4 regulations and provides up to 80% longer life.
Bredel hose pumps can deal with products as diverse as soft fruit and shell fish, abrasive yeast and finings, as well as fluids containing high concentrations of hard solids such as whole spices.
Hygiene is seen as another key benefit - unlike other pumps which incorporate a variety of moving parts and can contribute to microbial growth and contamination, Bredel hose pumps have no direct contact with the product at any stage of the production process. The new F-NBR hose can be cleaned by clean-in-place and steam-in-place sterilisation at full velocity, without the need for a bypass.
At a time when organisations are under particular pressure to contain costs, maintain and improve quality and limit the expense of downtime and lost production, the introduction of the new F-NBR hose is good news to food manufacturers.
Available in size 10-100mm, F-NBR hoses are manufactured in accordance with cGMP guidelines.