New Pump for Biopharmaceutical Manufacturing
Cytiva, a global provider of technologies and services that advance and accelerate the development and manufacture of therapeutics, collaborates with Watson Marlow Fluid Technology Group (WMFTG) to develop a new line of EtherNet/IP peristaltic pumps.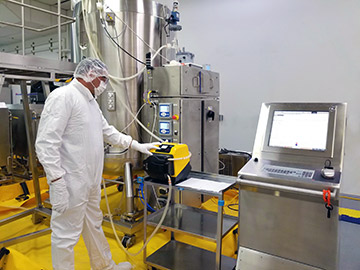 Cytiva collaborates with Watson-Marlow to create new line of EtherNet/IP controlled peristaltic pumps. (Image source: Watson Marlow Fluid Technology Group)
The new pumps enable biopharmaceutical drug manufacturers to improve process control and access data using Ethernet networks. The pumps are well-suited for manufacturing biological drugs, including those used for cell therapy and gene therapy.
The new line of EtherNet/IP cased pumps offers easy network integration, which makes it easy to package data for making real time decisions during manufacturing. This ability to access more information helps customers improve the efficiency, quality, and safety of automated production processes, and improves speed to market – ultimately helping reduce the cost of the drug manufacturing process.
"At Cytiva, we choose to work with companies that have proven technology, high quality standards, superior product support, and a focus on innovation," says Michelle Stafford, Cytiva's global marketing leader for bioprocess solutions. "Biomanufacturers value speed to market, and they need flexible manufacturing platforms that comply with global requirements. We select to work with companies that support and deliver products on a global basis and that is exactly what we get from Watson-Marlow Fluid Technology Group."
WMFTG's EtherNet/IP 630 and 730 pumps are currently undergoing trials on a variety of liquid management applications, including managing the transfer of an entire batch of materials – from an Xcellerex bioreactor to a mixer. WMFTG's smaller Ethernet/IP 530 pumps are being used to control pH levels in mixers and bioreactors, along with managing antifoam and glucose in bioreactors. Cytiva also uses the pumps for continuous processing for harvest and perfusion steps in some applications.
Product development
Cytiva requested WMFTG assistance in developing a pump as part of a product refresh initiative to address the movement towards automation and the internet of things (IoT) in the biopharmaceutical industry. A huge amount of data is coming out of the drug making process, including process parameters, set points, and output.
"Biomanufacturers face challenges managing the vast amount and different types of data collected, and we wanted a way to package the data such that it is easier to make decisions with confidence in real time during manufacturing," explains Stafford. "This information could ultimately affect the cost and delivery of the drug to the patient."
Many legacy products had been developed using the well-established but aging fieldbus (PROFIBUS) networking protocol. The automation team was seeking to develop products that could access the move towards online cloud-based big data analytics. They also had an eye on "future-proofing" products to the extent possible by selecting the right networking protocol – one that would hold up to the growing focus on security of IoT connected systems.
Jay Doherty, Cytiva control systems architect, worked closely with WMFTG to create a pump that moved from reliance on PROFIBUS. After a rigorous review of available options, the team selected the Ethernet control protocol. "We considered Ethernet to be the most likely way to access the IoT – at least for the next decade – based on the availability of components and the tremendous support for the Ethernet protocol in manufacturing as well as in the greater world of technology."
Once the Cytiva-WMFTG team decided on Ethernet technology, they evaluated the most widely known industrial automation options, eventually selecting EtherNet/IP. "We conducted an audit of device compatibility with sensors, scales, and other devices that are used for measurement in biopharmaceutical manufacturing and determined they were more widely available in EtherNet/IP than Profinet, another possible option more widely used in Europe," explains Doherty. "Also, the two control systems Cytiva currently utilizes (Rockwell and Delta V) integrate better with EtherNet/IP than Profinet." Customers using EtherNet/IP will be able to connect both pressure and flow sensors directly into the back of the pump, with data available on the network for factory/pump control. Warning and alarm limits will stop the pump if sensors limits are exceeded, and a leak sensor controls operations to prevents leaks.
Sharing data improves pumping
While peristaltic pumps are extremely accurate even at low speeds, feedback sensors are rapidly becoming more important as continuous batch manufacturing becomes the norm. "The new WMFTG EtherNet/IP peristaltic pumps can be used with flow meters that will enable the pump network controller to compensate for tube degradation as it ages," said Doherty. He adds, "As we move towards continuous processing, calculated flow simply won't be enough. With the new pumps, a flow meter will be able to use positive feedback to maintain the necessary flow rate for the process."
EtherNet/IP cased pumps offer significant benefits
Reduces operational costs and improves process performance using modern digital networks 
By switching to a modern communication protocol like EtherNet/IP, Cytiva can bring in a wide variety of data never before available. In addition, biomanufacturers will no longer need to rely on controllers as data concentrators, saving money on building large controllers for data that is not used. Instead, they can feature concurrent connections. "That means users can run a pump exactly as required by the process and in real-time collect data from it, as opposed to gathering it from a controller. If a field operator wants to know the number of hours the pump ran, it can ask the device directly," explains Doherty. "So, it's really kind of a divide and conquer approach to the data stream, which is excellent for those who need to be mindful of what's happening in the controller at all times."
Plug in local pressure and flow sensors and use the pump as a gateway to sensor data
This new functionality allows Cytiva to reduce hard input/output (I/O) count, enabling them to treat I/O points as remote I/O. In the past, taking a pressure reading would normally require an element with a transmitter and wiring back to a module. With the new WMFTG EtherNet/IP cased pump, biomanufactuers can plug a pressure transmitter straight into the back of pump and read it via EtherNet/IP. This reduces wiring, installation qualification, potentially operation qualification, and overall system complexity.
Easy integration using EDS files and a Rockwell Automation advanced device profile
The new pumps are equipped with a licensed EDS file from ODVA, which enables users to unlock an extremely beneficial extra feature – all information that comes into the controller is captured in its native data type. This means no typecasting or byte swapping needed to manage that data, significantly streamlining the workload and data transfer.
No need for adapters or gateways, saving money and space
The new pumps offer a huge amount of system modernization with a healthy dose of future proofing. In addition to saving money on adapters or gateways.
New pump offers digital automation solution for biopharmaceutical manufacturing
"The new WMFTG EtherNet/IP cased pumps are an important tool for today's biopharmaceutical manufacturers, who face challenges both from the risk of having their intellectual property compromised by insecure systems and the need to validate processes any time they make a change," concludes Doherty. "The WMFTG EtherNet/IP cased pumps represent an important step forward and it was a pleasure working with WMFTG's team to develop the product."