New Pressure Relief Valves from ASV Stübbe
ASV has developed a new product range structure for its pressure relief valves: ASV will cease to produce the valves DHV 715, DHV 716 and DHV 725 from September. The company will instead concentrate on the pressure relief valve DHV 712-R which incorporates all the functions of the other valves - and many more besides.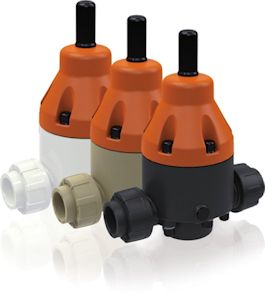 Pressure relief valve DHV 712-R (Image: ASV Stübbe)
By concentrating on an all-round pressure relief valve, ASV will be able to increase the availability of its products once again and at the same time it will be able to achieve cost savings in production which ASV will pass on to its customer. Despite its additional features, the DHV 712-R will not be more expensive than the outgoing models.
The patented DHV 712-R valve was specifically designed for application in chemical plant manufacture, for water treatment and for use in electroplating plants, is suitable for technically clean, neutral and aggressive fluids. The DHV 712-R can be set to pressure ranges of between 0.3 - 10.0 bar. Thanks to the piston control, the DHV 712-R is completely free of any return pressure and as a result also acts as a non-return valve at the same time. In pressure-relief operation, 712-R demonstrates an excellent and low-vibration control mode even behind oscillating dosing pumps.
The production of the pressure relief valves DHV 715, DHV 716 and DHV 725 will come to an end in September. This means that they will remain available for delivery until the end of the year. The spare-parts service will of course continue without any reductions or limitations.