New President of the ABS Group
As from 16th June 2005, Fredrik Groth has been appointed President of the ABS Group. He succeeds the former President, Peter Aru, who now holds the position as President and CEO of CARDO.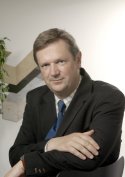 Fredrik Groth joined ABS Group in 2004 as CFO (Chief Financial Officer). Earlier this year he was appointed COO (Chief Operating Officer).
Fredrik Groth has previously had the position as CFO at Amcor Flexibles. Before that, he was working for several years at Trelleborg AB/Svedala Industrier AB where he held many leading positions within both general management and finance. He also spent two years in private equity and venture capital working for the Swedish 6th National Pension Fund as an Investment Manager.
Fredrik is now looking forward to taking on the new tasks as President of the ABS Group: "It is a commission I will take on with both pride and great responsibility. I'm looking forward to the challenge of leading ABS in line with the new strategy of offering our full application know-how within wastewater technology to the benefit of our customers".
ABS is a global solution provider in wastewater technology with a complete product portfolio of pumps, mixers, aerators, compressors, control and monitoring equipment, and services. ABS also offers pumps and rental services for the dewatering market, as well as solutions for pulp & paper applications under the brand name Scanpump. The ABS Group, with 2.100 employees and a turnover 2004 of 315 MEUR (2.9 billion SEK), is present in more than 100 countries and has around 40 subsidiaries. The ABS Group is part of the Swedish stock listed CARDO Group.