New President of Grundfos´ US Manufacturing Company
Grundfos announced the appointment of Bill May President of Grundfos Pumps Manufacturing Corporation (GMU) effective January 1, 2004.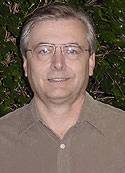 Bill May, President of Grundfos Pumps Manufacturing Corporation (source: Grundfos)
Bill's educational background includes a Bachelor of Science degree in Electrical Engineering from the South Dakota School of Mines and Technology. He has enjoyed a challenging career in manufacturing, including positions as the Engineering Manager and Manufacturing Manager for Pirelli Tire. Bill joined GMU in 1997 as the Facilities Manager, and he has held the position of Production Manager since 2000.
Mr. May succeeds Larry Wimmer in the position of GMU President. Larry is currently the President of Grundfos Pumps Corporation, the U.S. sales company in Olathe, Kansas. Bill and Larry enjoy an excellent working relationship developed during the years that both were on the management team of GMU.
Reflecting on his new responsibilities, Bill states, "Having spent many years in a different manufacturing environment, I truly appreciate that Grundfos not only produces a quality product, but is a quality company. I look forward in the coming years to working with the great team(s) here at GMU and in GPU as we work to grow the company and improve on our tradition as a 'quality' place to work."