New President of Grundfos´ U.S. Sales Company
Grundfos appoints Larry Wimmer President of the Grundfos Sales Company (GPU) in the U.S., effective June 17, 2003. Larry will also remain President of the Grundfos Manufacturing Company (GMU).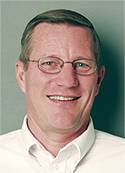 Larry Wimmer (source: Grundfos)
Larry Wimmer has a Bachelor's degree in Mechanical Engineering from Pennsylvania State University and was first employed by Grundfos in 1998 as an Engineering Manager. In 2002, he was appointed President of GMU.
During the past year, Larry has been working closely together with Victor Lukic and the management team in GPU to maintain a close relationship between the Grundfos Manufacturing facility in Fresno, CA and the Sales Company in Olathe, KS.
GPU welcomes Larry Wimmer into the sales organization and looks forward to years of success together. GPU thanks Victor Lukic for the dedicated 12 years he spent at Grundfos in North America and we wish him the best of luck.