New Power Ends Brochure
The Flowserve Corporation has published a new full color brochure that describes its new Prima3TM universal power ends. These rugged, heavy-duty power ends are adaptable to any ANSI chemical process pump regardless of original manufacturer.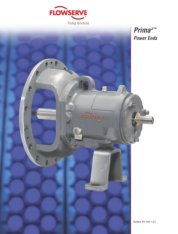 The brochure showcases the many features and benefits of Prima3 power ends such as:
Certified clean room assembly
Design simplicity allowing installation on virtually any ANSI pump wet end with only a shaft and adapter change
Inpro/Seal's VBXX non-contact Vapor Block Bearing Isolators which keep lubricants in and contaminants out
Magnetic drain plug which collects metallic contaminants
Unique external micrometer shaft adjustment for accurate impeller clearance setting in 20 seconds
Large 25 mm (1 in) diameter reflective sight glass to accurately gauge oil levelA lifetime warranty
The bulletin emphasizes that the standardization on Prima3 power ends will: greatly simplify maintenance and repair; eliminate confusion and inefficiency while significantly reducing power end spares and parts inventory; reduce operating and maintenance costs; and improve reliability.
For more information about the new Prima3 brochure or any other Flowserve products or literature contact:
Flowserve Corporation Pump Division
Sean S. Clancy 1 972 443 6546
1200 Industrial Park Drive
Vandalia, OH 45377
USA
E-Mail: fpdinfo@flowserve.com
Telephone: (800) 728-7867