New Pneumatic Actuator with Tandem Piston by KSB
In addition to its current range of actuators for valves, KSB's Luxembourg subsidiary SISTO Armaturen S.A. presents its new double-acting or single-acting pneumatic actuator from the SISTO-LAP-500 range.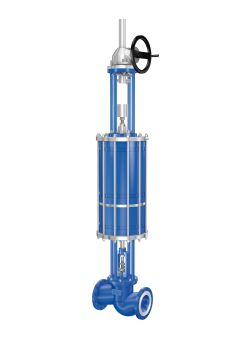 Fitted with two pistons arranged in tandem, SISTO-LAP-500 actuators achieve actuating forces of more than 250,000 N (Image: KSB Aktiengesellschaft)
The piston actuator has been designed for valves (globe and gate valves) with a linear stem movement. A special technical feature of the new actuator is a double piston in tandem arrangement used for a variant designed for high actuating forces. This means that two pistons are operated along one rod in separate pneumatic chambers.The combination of a 500 mm diameter piston and a control pressure of 7 bar in a double-acting actuator design allows actuating forces of more than 250,000 N to be achieved. The pistons are fitted with a disc with single-lip profile joint each. This configuration ensures smooth, low-friction movement. The piston rod is sealed by a U-ring and a scraper ring. A further feature is the internal air supply. As the air is routed internally, external tubing between the solenoid valve and the cylinder chamber is not necessary. The solenoid valve is connected to the actuator via a Namur interface. The actuators are also available with spring assemblies which move the valves to the defined fail-safe position in the event of a compressed air failure. Compared with conventional actuators of this size, the spring assembly is fitted within and not outside the pneumatic chamber. The actuator's overall height can thus be reduced. Manual override and a mechanical travel stop for closed and open positions are optionally available. Suitable working media are dry, clean, non-combustible and non-aggressive gases. Upon request, SISTO-LAP-500 is available as a special variant suitable for use at ambient temperatures of down to -40 °C.