New Oval Wheel Flow Meter for Sensitive Areas
With the new oval wheel meter OVM German-based ASV Stübbe offers a highly accurate flow meter for the sensitive areas in chemical and industrial plant construction. With their enclosure in untreated and uncoloured polypropylene (PP), a contamination of sensitive components such as photovoltaic modules or circuit boards is excluded.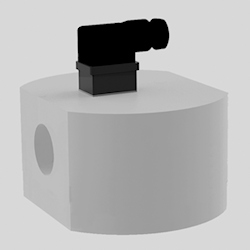 Oval wheel meter OVM (Image: ASV Stübbe)
Oval wheel flow meter work according to the displacement principle and are used for the measuring, metering and monitoring of viscous fluid flow. The oval wheel meter OVM is made up of a measuring chamber housing with two rotatable oval wheels with teeth which intermesh and rotate around and in opposite directions to one another. The oval wheels convey with each rotation four (isolated between the oval wheel and the measuring chamber) partial volumes through the meter. In order to take the measurement, the rotation of the oval wheels is transferred by means of magnets to pulse tachometers.
The oval wheel meter has a compact design and is irrespective of the flow speed of the fluid as well as the fluid s density, temperature and viscosity. No upstream or downstream sections are necessary. By connecting the oval wheel meter OVM to a SPS it can be used to dose fluids.
The flow media are all neutral and aggressive fluid media which are free of solid particles, provided that the components coming into contact with the instrument are resistant in accordance with the ASV resistance list.