New OEM Product Gets More Out of the ALPHA2 Brain
Expanded intelligence combined with sensor technology and wireless communication form the basis for the development of a new hot-water module.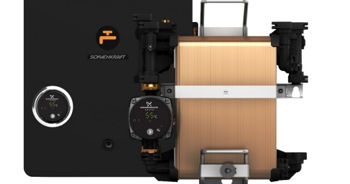 Grundfos
By combining innovative Grundfos technologies in a new way, the HVAC OEM Division has succeeded in developing an intelligent, turnkey system. The system, which is mainly intended for solar heating systems, gives home owners hot water at the taps the moment it is needed. The system is also energy-efficient and easy to install.
According to Henrik Bonde, Vice President, OEM Division, Grundfos will outperform competitors with the newly-developed system.
"This is an important step in our efforts to continue to be the most innovative supplier of customised system solutions", says Henrik Bonde.
ALPHA2 controls
According to Jørgen Hejlesen, Chief Project Manager, one of the great advantages of the hot-water module is that it makes the entire system simpler and more inexpensive.
"Other control units have been rendered superfluous, as ALPHA2 functions as the control unit for the entire system in which the module is used. This is possible because we have developed extra software in order to utilise the data power and we have equipped the pump with wireless communication. Thus, it can receive signals from, for example, sensors that measure temperature, flow and pressure, and activate and deactivate other pumps in the system – depending on the current need for hot water", Jørgen Hejlesen explains.
Energy-saving
In addition to the ability to function as the control unit, the hot-water module, which was mainly developed for solar heating systems, offers a range of other advantages.
"The system has the fastest reaction time when the users adjust the required water temperature between 30 and 60 degrees Celsius. No matter the number of taps that are subsequently opened, the temperature is kept constant with a +/- 1 degree tolerance. Last, but not least, the energy consumption is minimised, because the module adapts to the user profile, so that hot water will not be produced and circulated at night and during other periods when there is no demand for it, Jørgen Hejlesen explains.