New name for pump and compressor business
Thomas Industries Inc. (NYSE: TII) has announced that the operating name of its pump and compressor business will be Rietschle Thomas. This will also serve as the brand name for the entire product line formerly marketed under the THOMAS and the RIETSCHLE brands.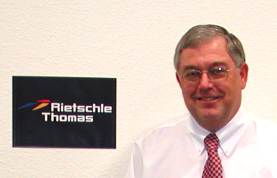 Tim Brown, Chairman, President and Chief Executive Officer of Thomas Industries (Source: Thomas Industries)
According to Tim Brown, Chairman, President and Chief Executive Officer of Thomas Industries, the new name reflects the integration of two powerful brand names that have come together as a result of Thomas Industries and Werner Rietschle GmbH joining forces in an acquisition that was announced on August 29, 2002. "We are talking about two of the preeminent names in the industry, and anyone familiar with these names will immediately recognize that the combined product line is by far the broadest in the industry." He noted that the parent company, Thomas Industries Inc., will not change its name, and will continue to trade on the NYSE under the ticker symbol TII. He also indicated that this will not affect the Company's Welch or Oberdorfer product lines, which will both retain their well-known and recognized brand names.
Rietschle Thomas has also unveiled a dynamic new logo and graphic identity that streamlines the key elements of the former brands into one cohesive look. The logo utilizes the familiar red, blue and yellow colors of the former Rietschle identity (representing pressure, vacuum and a combination of pressure and vacuum, respectively), contained within the highly recognizable Thomas icon. "The look is new and progressive, yet will still recall the familiar elements which have long represented the quality and high performance of our products," noted Tim Brown.
Coinciding with its new name, Rietschle Thomas has unveiled a new portal Web site at www.rtpumps.com. The content is organized around the vast array of product technologies offered by the company, allowing visitors to easily access the entire Rietschle Thomas product line as well as many other useful features, all from one site.
Thomas Industries Inc., headquartered in Louisville, Kentucky, is a leader in the design and manufacture of Rietschle Thomas brand pumps and compressors for use in global OEM applications, supported by worldwide sales and service for key customer applications and end-user markets. High quality automotive component castings are also a key offering. Other products include Welch laboratory equipment and Oberdorfer centrifugal and rotary gear liquid pumps. The Company also owns a 32 percent interest in Genlyte Thomas Group LLC, the third largest lighting fixture manufacturer in North America. Thomas has operations in North & South America, Europe, Asia, and Australia.