New Multi-stage, Self-priming Pumps for Domestic Water Supply
Calpeda has introduced the new MXA multi-stage series. Featuring a new self-priming system, the new pumps provide an innovative and reliable solution for domestic water supply applications.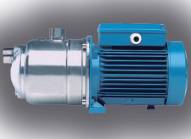 MXA (Source Calpeda)
The new pump range is suitable for domestic water supply, garden irrigation and rainwater utilisation plant. Featuring a new self-priming system with two opposed automatic valves arranged in two converging ducts from the pressure chamber into the eye of the first impeller. This provides for optimum water circulation during the priming stage, interrupting the circulation after priming to ensure full pump capacity and head during normal operating conditions.
A tight seal and noiseless operation is achieved via the use of helical springs and plungers with o-ring at the valves. During the priming process the pressure of the extended springs keeps the plungers open. After priming the pressure in the casing and lower pressure at the suction chamber keeps the plungers closed. New diffusers down stream of the impellers provide for fast air evacuation.
The MXA series is constructed from the same external parts as the single-impeller jet pumps NGX and the multi-stage non self-priming MXP ranges. Three different convertible pumps giving a choice of different construction options within the same plant: with greater capacity or greater pressure, less noise or better self-priming.
The compact construction, smaller than pumps of a similar type, allows for installation in restricted space and ease of retrofit replacement.