New Machine Centre Increases Speed of Pump Component Production Lead Time
Bredel, part of the Watson-Marlow Fluid Technology Group (WMFTG), has invested over €3.4 million in a new high specification CNC turn-mill centre, an automated gantry loader and a vertical storage system to ensure shorter lead times for customers.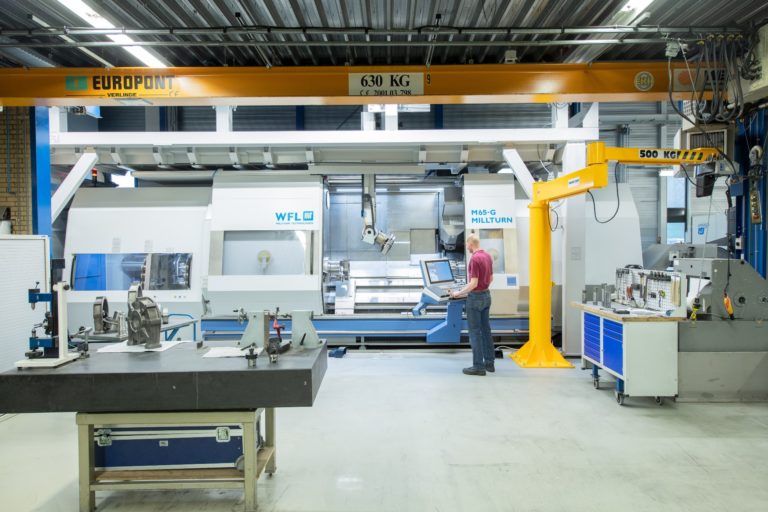 Bredel invests €3.4m in machine centre to further increase quality and speed of pump component production lead time. (Image source: Watson-Marlow Fluid Technology Group)
This major investment signals the intention of Bredel and WMFTG as a whole to continue improving its already class-leading operational capabilities and add further value for customers, despite the challenging economic conditions created by COVID-19.
At Bredel's advanced manufacturing facility in Delden, Netherlands, the management team is always seeking ways to improve performance. As part of WMFTG there is an ongoing policy of investment in the latest manufacturing technologies and, following a recent review, the team identified the facility's machine shop as an area of opportunity for further gains.
The plant's existing CNC machining centre, while adequate in capability, was no longer able to meet capacity demands, which in turn meant outsourcing certain components. To regain in-house control of these parts and shorten lead times, there was a clear need for investment.
Advanced technology
Bredel's production managers earmarked the WFL Millturn M65G as the optimum solution from a shortlist of researched machines. Such is the size of this heavy-duty turn-mill machine that the roof of the Delden facility required removal to allow access.
Built in Austria, the WFL Millturn M65G is able to both turn and mill components in a single set-up, negating the need for two separate machines. In short, pump parts featuring both cylindrical and prismatic features now roll-off complete in a single hit, subsequently reducing lead times.
"Today we're able to machine all components in one pass, and in 24 hours instead of two or three days," confirms Bertus Groteboer, Senior Manufacturing Engineer. "A good example is the housing for our Bredel 25 pump.  Previously we could complete a series of 28 pieces over two night shifts, but now we're able to produce these parts in one eight-hour shift in the exact numbers required."
Continues Groteboer: "The complete automation and ability of the machine to process small batch sizes increases our flexibility. We can react to demand within two hours when necessary. Such is the throughput capacity of the new system that we're now recalling previously outsourced pump components."
Myriad of advantages
As well as speed, the installation provides many more benefits. For instance, work scheduling and planning become less complex, while the cost-consuming stock piling of semi-finished parts is a thing of the past. A further advantage relates to electricity savings. Although the energy consumption of the new machine is comparable to current usage, when divided over the complete number of machined components, there is a reduction per part. In addition, safety receives a boost as less handling and transportation reduces the potential for accidents, while a single set-up approach enhances component accuracy.
"Our customers can now rest assured that the requirements of both current and future machined parts meet with the highest precision," says Groteboer. "The ability to freely interpolate the various CNC axes provides us with the potential to deploy a vast range of machining strategies, particularly as the WFL Millturn M65G is specified with a number of optional extras and uses dedicated cutting tools. For some of our components, like spline-flanges, this capability means sizable wins in both accuracy and production time – we now produce these particular parts 40% quicker."
As well as turning and milling, the machine can perform operations that include drilling, deep-hole drilling, internal and external gear cutting, and circular interpolation milling, offering virtually no restrictions when it comes to workpiece complexity. As a point of note, the Bredel plant now creates component machining programs using a newly installed Siemens NX CAD/CAM system.
Automated loading
A Promot gantry loader complements the WFL Millturn M65G at Bredel. Customised to meet the specific requirements of the company's pump components, the gantry loader makes it possible to automatically change the work-holding jaws, which is a relatively unique feature on turning machines worldwide. The project team liaised closely with Schunk, which developed and engineered the jaws, chucks, grippers and jaw changers used on the WFL Millturn M65G. As a result of this innovation, changeover between components and production orders occurs completely unmanned.
Another major part of the investment is an ICAM SILO2 vertical storage system, which stores all the jaws, grippers and jaw changers, as well as raw material and finished parts. The operator can load and unload the storage system while machining continues. Indeed, the entire system is set up for 24/7 operation and automatic, unattended changeover of production.
"Notably, the installation is prepared for direct communication with other systems," concludes Bertus Groteboer. "As a result, the machine can communicate with our proprietary ordering system to retrieve works orders for pumps and spare parts without the need for human intervention, providing a totally automated manufacturing process."