New Innovative Line of the AFP, the ME4 Series
ABS is introducing the next generation of submersible sewage pumps with an even lower Life Cycle Cost than before.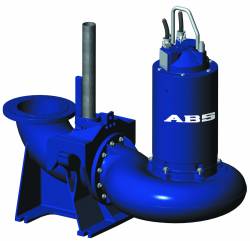 The next generation of ABS submersible sewage pumps - AFP ME4
Proven in more than one million tough applications throughout the world, the well-known AFP pumps from ABS have given years of trouble-free and efficient operation.
ABS now launches a new series that is even more cost-effective, meeting the challenge of the increasing expectations and requirements from customers worldwide. The new AFP ME4 series (ME stands for Modular and high Efficiency) will replace the well-proven M4 series as the most economical solution regarding investment, power consumption, maintenance and repair to achieve the minimal Life Cycle Cost.
The pumps provide an abundance of opportunities in municipal and industrial applications such as in food processing, breweries and paper mills. They are suitable for clear water and wastewater, for sewage and sludge containing solids and fibrous material. In combination with the ABS automatic coupling system, the below ground level wet installation is a particularly economical and environmentally friendly solution. The pumps are also suitable for horizontal or vertical dry installation.
The new ME4 series includes motors from 15 to 53 kW, 4 to 8 poles and hydraulics from DN 100 to DN 300. The motors are fulfilling the increased efficiency requirements and they are also available in explosion-proof execution. The pumps are suitable for both dry well and wet well installation, and are equipped with a new closed cooling system. For blockage-free operation the pumps are supplied with the next generation of ABS ContraBlock® system.