New In-Line Pumps for Building Services by KSB
Complementing its existing range of in-line pumps, KSB is launching a new type series called Etaline L.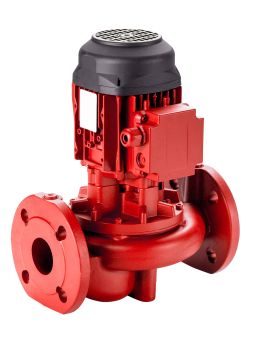 The new in-line pumps of the Etaline L series complement the lower end of KSB's range of close-coupled pumps (Image: KSB Aktiengesellschaft)
The small close-coupled pumps in in-line design are available in 12 hydraulic sizes. Their motor rating ranges from 0.12 to 3.0 kW. The pump series covers flow rates of up to 95 cubic metres and discharge heads of up to 21 metres.
The cast casings and the mechanical seals are designed for operating pressures of up to 10 bar. The connections at the suction nozzle and discharge nozzle can be either flanged or threaded, depending on the size. A confined O-ring reliably seals the casing, also in fluctuating operating conditions.
As standard, the pumps are fitted with mechanical seals selected for a maximum operating temperature of 120 °C. They can be supplied in a large range of material variants. Depending on the application and size, the impellers with their good suction behaviour can be made of grey cast iron, bronze or polysulphone.
Customers can choose between a fixed speed drive and a variable speed drive with a motor-mounted PumpDrive variable speed system. Both three-phase motors and single-phase AC motors are on offer for this type series. The pump sets are available for horizontal or vertical installation.