New Hose for the Extraction of Fumes & Gases in the Chemicals Industry
With the Master-PE L-EL, Masterflex previously extended its already impressive all-round range with this profile-extruded suction & transport hose made from polyethylene offering an outstanding level of chemical resistance.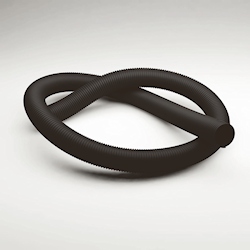 The new Master-PE L-EL hose (Image: Masterflex)
Now, the product range has been extended even further - this time in the form of an extremely lightweight film hose, which boasts the same excellent chemical resistance and therefore perfect for applications in the chemicals industry. The brand new Master-PE L-F EL is made from electro-conductive polyethylene and is especially suitable for the suction/extraction of chemicals fumes and gases. The PE material offers a much greater chemical resistance in comparison to other hoses made from PU and PVC.
A large number of standard materials are quickly deemed unsuitable for the suction and extraction of aggressive solvents, alkaline solutions and fumes. Where similar hoses made from PU and PVC are often limited in their chemical resistance, this hose made from high quality polyethylene scores maximum points with its incredible durability. This means greater reliability and reduced maintenance.
The highly flexible, halogen and plasticizer-free film hose is particularly suited to applications involving the extraction of solvents and other aggressive fumes. It is designed especially to withstand temperatures ranging from -40 °C to +60 °C. Thanks to its thin wall material, the hose is highly flexible in all lengths and conditions, enabling even the smallest bending radii. With its special mixture of raw materials, the new Master-PE L-F EL offers an additional advantage with its electro-conductivity of ≤ 104 Ohm. This therefore means it is officially certified for use in hazardous zones according to the ATEX / TRBS 2153 (Zone 0, 20) standard for flammable dusts and liquids, and for the dissipation of electrostatic charges with grounding at both ends of the spiral.