New Higher Capacity Water System Pumps
Jabsco have extended their range of 'intelligent' Sensor-Max water pressure pumps to include two models capable of delivering 23 and 29 lpm (5 and 6.25 gpm) at up to 60psi (4.1 bar). This level of performance, which can service 5 plus outlets simultaneously, ...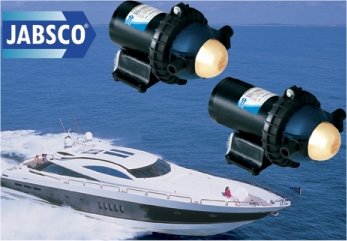 Jabsco
... outstrips conventional diaphragm pumps by a substantial margin and can only be matched by more expensive or bulky centrifugal designs.
Along with this greater capacity comes all the hi-tech benefits of the Sensor-Max concept. The VSD – Variable Speed Drive motor automatically adjusts its speed and flow rate according to the number of outlets in use, and does so while maintaining the same constant pressure. This eliminates the need for an accumulator tank in the system, saving space, yet ensures a smooth flow without cycling and noise.
Sensor-Max 23 and 29 have a high build quality with compact sealed motor housings, vibration absorbing mounts and easy to use snap-fit port fittings. They will 'run dry' and self prime up to 1.8m (6feet) and are supplied complete with a Jabsco Pumpgard™ Inlet Strainer.
Ideal for larger vessels, both models are available in 12 or 24 volt, low draw energy efficient, versions and are fully CE Approved. They join the already successful Sensor-Max 14 and 17 lpm (3 and 3.75 gpm) models.