New Heating Circulator Declares War on High Energy Consumption
Until now, high-efficiency pumps have been available only for large buildings, but now they are entering the sector of small private houses: pump manufacturer Wilo introduces the high-efficiency pump Stratos Eco for detached and semi-detached houses.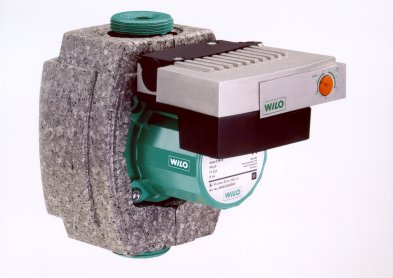 A quantum leap in heating circulators for detached and semi-detached houses: Wilo introduces the high-efficiency pump Stratos Eco. This pump reduces the power consumption by up to 80 per cent compared with standard heating circulators (photo: Wilo AG).
For the first time, home owners can now install these highly efficient circulation pumps and benefit from the enormous potential savings in energy consumption. The technology of this new generation of pumps reduces the energy consumption by up to 80 per cent compared with conventional pumps. For this reason, the Stratos Eco – just like its larger "sister" – has been awarded the class-A energy label for very low power consumption.
The heating circulator Stratos Eco replaces the existing model ProfiStar. And for circulation of hot water, there is now the high-efficiency circulation pump Stratos Eco-Z, which replaces the Star-ZE. Both of these pumps of the new generation can be planned and used just like their electronic predecessors. All Stratos Eco pumps are equipped with the excellent EC motor technology which is already well-known in the Stratos series. This is the key to the very low power consumption which distinguishes the high-efficiency pumps from standard and other electronic pumps. The highly efficient EC motor combines the advantages of wet-running technology with an unbeatable efficiency. In addition, the hydraulics of the Stratos Eco pump has also been optimised. The electronics – a completely new development – provide integrated power regulation for variable differential pressures and can be regulated just like the current ProfiStar model.
Due to the magnet technology used in the pump, the starting torque is three times higher than that of any small heating pump manufactured in the past. This property, combined with the new filter upstream of the cartridge and the anti-blocking software, ensures that the pump always starts and runs reliably. To a great degree, blockages are now a thing of the past. The pump can be installed quickly and the basic settings can be made, as on previous models, quickly and easily with the aid of the "red button".
All Stratos Eco high-efficiency pumps are equipped as standard with a thermally insulating shell. Other standard features include the automatic temperature-reduction programme (Autopilot) and the adjustment of the setpoint with the aid of the red button. The wet-running circulation pumps are suitable for use in heating applications with temperatures in the range 15 to 110 °C.