New Generation of Variable Speed Drives
The Hannover Messe saw the launch of Emotron AB's new generation of variable speed drives, which have grown in terms of function but reduced in size. At the same time the company presented its new strategy of focusing on selected applications.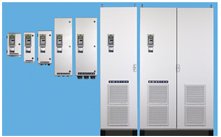 Emotron's new variable speed drives, developed for applications such as pumps, fans cranes and crushers are available in 0.75-1,500 kW output ranges (photo: Emotron).
This allows cutting edge knowledge and products adapted to specific needs. The new Emotron FDU is developed for applications such as pumps, fans, compressors and blowers, while Emotron VFX is adapted for dynamic applications such as cranes, crushers and mixers.
Increased functionality in a smaller format
Emotron's new variable speed drives, FDU and VFX in the 0.75-1,500 kW output range, offer efficient, reliable and user-friendly control. Among the new features are:
An integrated shaft power monitor that detects deviations from normal operation over the whole speed range. This prevents unplanned downtime and allows preventive action before energy is lost or equipment damaged.
New compact I/O boards allow connection of up to four options, for example communication, pump control and crane control. Virtual connection of logic functions, comparators and timers means that more options can be used. Different logical functions can be combined without cables or external I/Os.
Integrated temperature control offers more efficient motor protection and extends equipment lifetime. PTC and PT100 sensors can be connected for motor protection and process feedback without transmitters. Encoder can be connected for more accurate speed control in dynamic applications.
Operating parameters are set in selectable process units, making monitoring simpler and safer. The control panel is removable and can easily be moved between variable speed drives to copy settings.
The installation is simple and cost effective due to IP54 enclosure and extremely compact format even for high outputs. Liquid cooling is available as an option, which saves space and energy because air conditioning is not required.
Emotron is a Swedish company with manufacturing and development resources in Helsingborg and in Bladel, Holland. Emotron has its own sales organisations in Sweden, Benelux, and Germany, offices in China and Latin America, as well as distributors and partners in a number of countries around the world. Emotron focuses on solutions for starting, protecting, controlling and stopping machines and processes driven by electric motors. For more than 30 years Emotorn has developed a product portfolio for specifically chosen applications in the fields of water and industry. With variable speed drives, softstarters, load monitors, and control systems, the company offers customers solutions that are reliable, cost-efficient, and user-friendly.